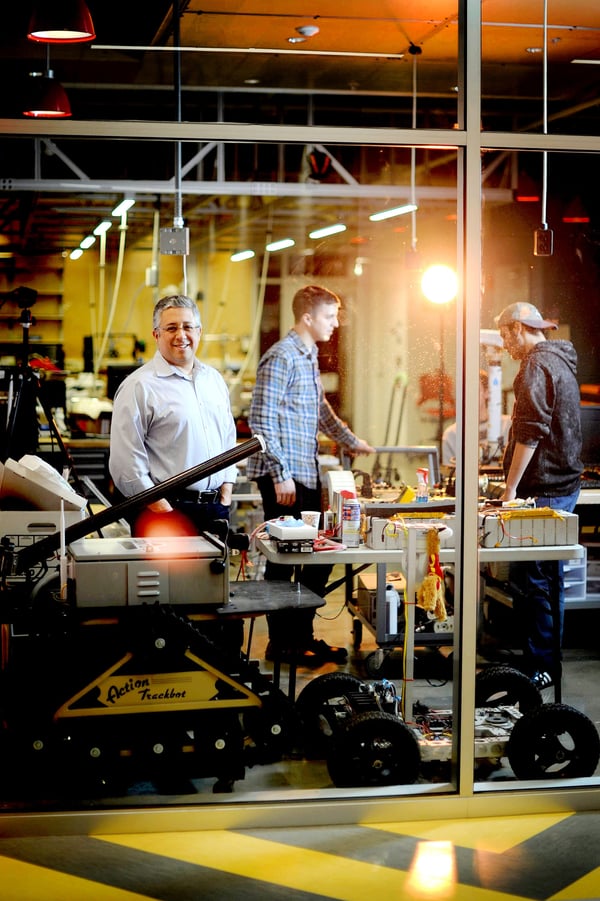 Trade disputes with the United States "will not hamper China's ongoing move to become an advanced manufacturing power with intensified research and development efforts and international cooperation," according to experts quoted in ECNS.
OCTOPUZ delighted kids and adults alike by programming a UR cobot fitted with a Robotiq gripper to serve cotton candy…
Elsewhere…
Chinese roboticist and entrepreneur Sun Tianqi has modded a six-legged toy robot made by his consumer robot firm Vincross so that it can carry a potted plant on its back.
The mod enables the robot to transport plants to the optimal position for sunlight.  The device also stomps its "legs" when the plant needs some water.  (H/T The Verge.)
South Korean telecommunications company KT Corp. has unveiled a new "next-generation platform for disaster and safety management."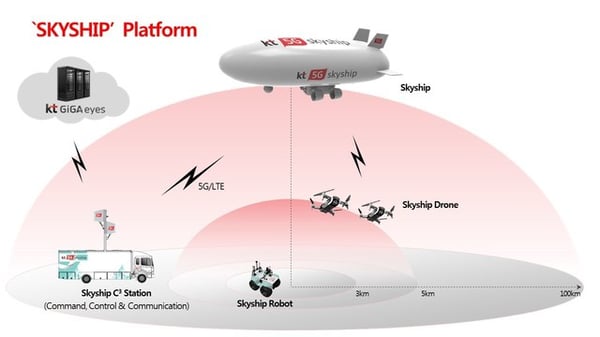 Credit:  KT Corp.
Via UST:
The SKYSHIP platform operates a special unmanned airship and a mobile communication center to remotely control drones and robots that carry out search and rescue operations for disaster survivors. Rescuers on the ground are also assisted with augmented reality glasses that have a direct line of communication to doctors at nearby hospitals for assistance delivering emergency treatment.
Michael Milford and  Jonathan Roberts from the Queensland University of Technology, experts in bio-inspired systems, shared some of their insights into robot vision in a fascinating piece for The Conversation.
If you're in the mood for a quick history of robotics, Interesting Engineering published "15 Engineers and Their Inventions That Defined Robotics."
According to Europe's The Parliament magazine, "robotics needs AI and AI needs robotics."
Finally, all of us can appreciate a little positive affirmation every now and then.   But unless you're a performer an enthusiastic round of applause is something few of us will ever get to experience.
Thankfully, to meet this need (and a few others in the service robotics space) there's a new robot that can provide you with an uplifting round of applause whenever you like and, quite frankly, whether you deserve it or not.  Now that's progress…
I'll be back next week with more robotics news!  Until then…
Five vids for Friday
1.  MIT's Cheetah 3 robot can now leap and gallop across rough terrain, climb debris-littered staircases, and swiftly recover its balance when yanked or shoved and all without relying on complicated vision systems –a repertoire of skills that could prove useful in disaster zones.
2.  Get out the popcorn, folks.  The popular foodstuff has proven itself to be a cheap, biodegradable way to provide a robot with once-off actuation.  (H/T IEEE Spectrum.)
3.  SoftBank Robotics' humanoid service bot Pepper explained to a Business Insider reporter why we don't need to be afraid of advanced robots.  The pair's conversation also encompassed the age-old philosophical problem of feelings vs. tacos.
4.  CGTN visited the China International Robot Show in Shanghai to explore the future of the robotics industry.
5.  Disney Imagineering released stunning new video of it autonomous, robotic stunt doubles in action.
For more trends in robotics, visit the Robotics & AI Channel.