By Emmet Cole
Manufacturing & cobot roundup
KUKA's LBR Med Robot Assistant cobot picked up an award at The 14th International IERA Award for Robotics and Automation.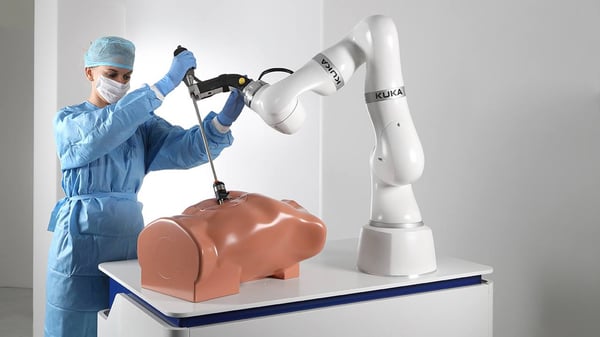 The LBR Med has seven axes and sensors designed for human-robot collaboration. Credit: KUKA
Via Control Design:
In laboratories, clinics or operating theatres, the lightweight robot takes over various tasks depending on the tool and program – for example, during medical interventions, treatments or scientific test procedures.
Experts from GM, FANUC and the Robotic Industries Association, appeared on Autoline TV to answer the question "What is a collaborative robot?"
(Note: For Robotiq's answer to the same question (from "way back" in 2015), check out this post.)
ABB is to acquire AB Rotech, a privately-owned company headquartered in Bursa, Turkey, with nearly 20 years of experience in robotic welding solutions and services for the automotive industry.  The value of the deal –which is subject to regulatory approval and is expected to close later this year– has not been disclosed. (H/T Reuters.)
Doosan showcased one of its cobots being used for wheel bolt fastening…
Robotics & Automation News explored "4 Reasons Why Collaborative Robotics Is The Answer To SME Automation":
1.  Enhanced human safety
2.  Easy deployment
3.  Improved flexibility
4.  Extremely cost-effective
Universal Robots took a fresh look back at Automatica 2018…
MIT Technology Review reported on a giant new warehouse and fulfillment centre in Shanghai, which has only four employees.  Owned by JD.com, one of China's biggest e-commerce companies, the facility's employees are used for robot servicing.
Mobile Automation installed a UR10 cobot from Universal Robots in at Rockpress in Queensland, Australia at Rockpress. The cobot works on welding tasks and can handle welding 8 assemblies at a time with little assistance from a human colleague…
Meanwhile, "For the world's second-largest economy [China] to realize its technology ambitions, it needs to start coming up with original solutions," says Asia Times;  robots are settling into life in Europe's warehouses (H/T JLL Real Views);  and, according to data from global job site Indeed, there has been a 186% rise in the number of Indians looking for employment in robotics between May 2015 and May 2018, with Maharashtra offering most of the jobs in the sector.
New video shows a Renishaw Equator flexible gauge integrated into a cell with a Mazak turning centre and a cobot from Fanuc.  This combination of technologies allows parts to be cut, handled and gauged in an automated cell without guarding…
Bridging the STEM skills gap in the United States will require both education and industry commitments, according to U.S. News & World Report.
Northeastern University professor Taskin Padir is leading a new project "to bring collaborative robots developed at the university into processing plants at America's busiest fishing port, located in New Bedford, Massachusetts."  The goal of introducing cobots is to "to increase production and efficiency, keep workers safe, and stimulate local job growth," News @ Northeastern reported.