Small-caps have been feeling downward pressure all year thanks to stubborn inflation and high interest rates. But technical analysis data may reveal that there could be light at the end of the tunnel.
The term "death cross" could provide a signal that selling pressure is over for small-caps and that a rebound could be forthcoming. That's certainly welcome news for small-caps that have been reeling from high borrowing costs.
Small-caps are in a more precarious position than their large-cap counterparts. As mentioned, however, the technical outlook is promising.
"The Russell 2000, an index of small-cap stocks, recorded a 'death cross' on Friday (October 13), its first since April 21, according to Dow Jones Market Data," MarketWatch reported. "It also was the first time the index booked two death crosses in the same calendar year."
"Dow Jones Market Data shows the Russell 2000 typically sees a strong rebound during the six months and 12 months following a death cross, which occurs when an index, currency pair or security's 50-day moving average dips below its 200-day moving average," the reported added.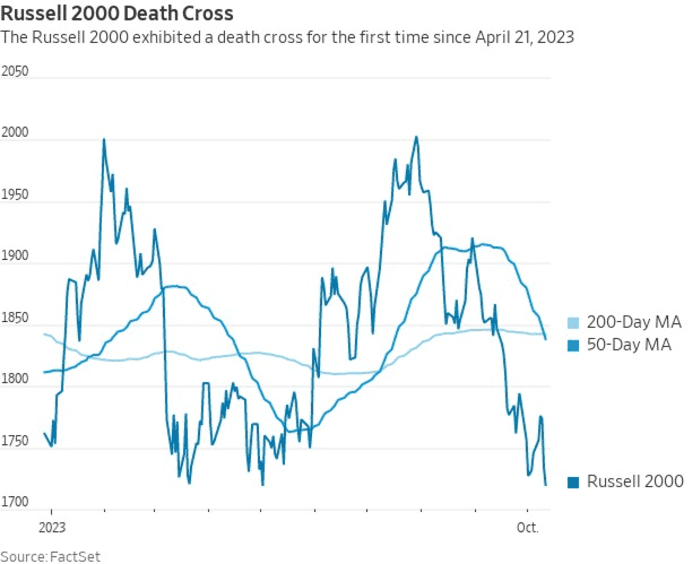 A Fundamental Approach to Small Caps
For investors who are mulling small-cap exposure, but are still hesitant due to the market uncertainty amid high inflation and interest rates, quality exposure can ease fears. This is inherent in exchange traded funds (ETFs) like the ALPS O'Shares US Small-Cap Quality Dividend ETF (OUSM).
One reason investors like large-caps, especially this year, is the stability they offer in times of heavy market volatility. The quality factor is essentially baked into large-caps. This is due to their strong financial positions relative to small-caps. But that search for quality can also be applied to smaller companies.
Fixed income seekers can also take a closer look at OUSM given its monthly dividend. The fund's sector exposure spreads across primarily financials, industrials, and consumer discretionary, highlighting the fund's diversification.
Per its fund description, the ETF seeks to track the performance of the O'Shares U.S. Small-Cap Quality Dividend Index (OUSMX). Overall, the fund is designed to provide cost-efficient access to a portfolio of small-cap, high-quality, low volatility, dividend-paying companies in the U.S. selected based on fundamental metrics including quality, low volatility, and dividend growth.
For more news, information, and analysis, visit the ETF Building Blocks Channel.