By CapitalTrading via ValueWalk
What is becoming obvious now is the fact that the global central banks can no longer hide the fact that without their QE and balance sheet expansion, asset prices would fall and economies would reverse. The last month or so has seen a huge reversal in the markets expectations for future rate hikes and one by which certainly shouldn't have surprised any of our readers. We have used and will continue to use the #QE4EVR theme as basically we are and will all continue to be bound to the low interest rate to negative rate environment. We aren't stupid…
Anyway, let's look at the latest headlines and make some comments (headlines and charts are from D.Wienke of Cabrera Capital)
U.S. DEC. RETAIL SALES FALL 1.2% M/M, BIGGEST DROP SINCE 2009
PPI Growth Slowest Since July 2017 (How long will Sears and JCP and the rest of the retail sector last)
CHINESE OFFICIALS FOCUSING ON WAYS TO BOOST U.S. EXPORTS TO CHINA- WSJ
CHINA' PROPOSING TO INCREASE U.S. SEMICONDUCTOR SALES TO CHINA TO $200 BILLION OVER 6 YEARS- WSJ, CITING U.S. COS BRIEFED ON THE PLAN
Trade talks remain deadlocked as Beijing refuses to eliminate coerced technology transfers – WSJ
KUDLOW SAYS RETAIL SALES AFFECTED BY GOVERNMENT SHUTDOWN
KUDLOW SAYS THERE ARE `GLITCHES' IN RETAIL SALES NUMBER
Kudlow says US negotiators in China will meet with Chinese President Xi tomorrow
BRAINARD: DOWNSIDE RISKS HAVE DEFINITELY INCREASED; SAYS FINANCIAL CONDITIONS HAVE ALSO TIGHTENED
FED'S BRAINARD SAYS BEING ON HOLD ON POLICY RIGHT NOW IS THE RIGHT PLACE TO BE
Fed's Brainard: Program to shrink balance sheet should come to end by year-end
With all these lackluster headlines and with all the fanfare drummed up over the last year how the FED and the global central banks were going to be able to raise rates (insert laugh here) and cut balance sheets…what a farce, what shills, it's pathetic. Even worse and if it's not obvious by now, that without the central bank's debt-ridden bonanza fest of free money to the bankster's and corporate elites all things would collapse. Essentially, we have one gigantic fractional reserve Ponzi Scheme, albeit a legal one and purely all authorized by decree only.
What's also obvious is that we are beginning to see once again the same fundamental financial die-hard's across the broad media spectrum calling for equities to fall based upon all the bad news…Even though we agree with their basic fundamental analysis, this is no longer an Econ101 regime, we left that station long ago…The environment we seem to be in is one by which any news will be spun as good news even if it is fundamentally bad. I.E. retail sales down…buy stocks…payrolls down…buy stocks…layoffs increasing and CAPEX down…buy stocks…why you ask? Because the only thing that truly matters are the Central Banks balance sheets and whether they are increasing or decreasing…well we aren't stupid, once you fall off the cliff, there's no turning back!
As for the reaction of the markets off of this morning's terrible number, well here are a few of Mr.Wienke's charts:
SPX fall to the .382 retrace of the week, before bouncing back near the 200 day moving averge: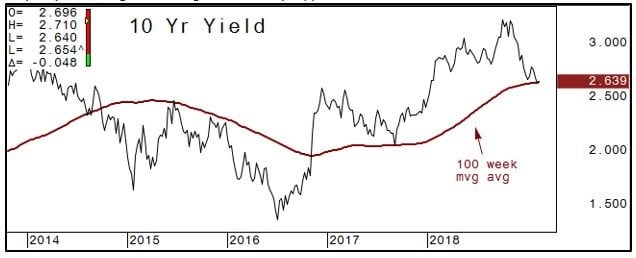 10-year yield testing and holding the 2.64% key support: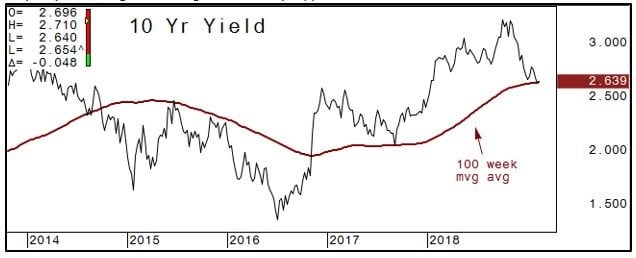 The only questions that remains now is will the equities out pace the bonds at this point. If the reflation trade is back on and risk is back on because the FED and all the other central banks are continuing to employ the only tool they have left, QE-Ad-Infinitum then will stock and bonds both appreciate in price? Seems to be the case, but what if, what if this time is different, what if the stimulus doesn't have the same effect? We are curious as to that question and will continue to watch if indeed equities don't run up and the bond yields continue to fall, then maybe we are in a new paradigm. Many don't understand how our system works, but we hope by reading our letter you are gaining a better grasp of how things actually function.
Just to be clear on the steps of how money is created we will show a graphic depicting how fractional reserve banking works, then we will show how QE works: