As the world's fastest growing large economy, and one of only two countries with over 1 billion people (with a population about 4x that of the United States), global investors and businesses are increasingly looking to India for financial opportunities. According to a Goldman Sachs prediction, India's GDP is expected to grow from about 1/12th of the US's in 2010 to roughly on par with that of the US by 2050.
Companies like Google and Facebook are aware of the importance of India's growth, and the need to link the nation technologically with the rest of the world.
"We are extremely committed to India. Our mission in India is internet for every Indian," said Rajan Anandan, Managing Director of Google India in an interview.
One issue is the cost of technology. Smart phone ownership, for example, is still relatively low in India, at only 24% compared to the rest of the world, according to a 2018 Pew Research Center Survey. The full chart is listed below.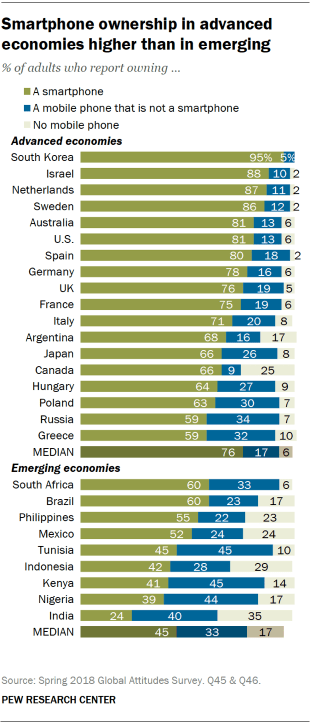 "Pricing is everything," Anandan continued. "Tomorrow morning if I could wake up and have one wish for the Indian internet, I would say it would be a much more affordable, quality smartphone. If we could do that, then I think literally overnight we could double the user base in India."
"If you really have a mission of connecting every person in the world, you can't do that without helping to connect everyone in India," explained Facebook CEO, Mark Zuckerberg.
In 2018, Walmart acquired Indian retailer Flipcart for $16B, yet eCommerce only accounts for 2% of India's retail sales, offering a tremendous opportunity for companies like Google.
Unfortunately, the Indian government is resistant to such developments due to concerns over information gathering and privacy issues that have reared their head with companies like Facebook in the past. They are prioritizing safe internet practices, and have yet to find a balance between privacy and accessibility.
Still, with the changing political climate in India, investment opportunities are getting positive headwinds.
"When Prime Minister Narendra Modi got a clean and decisive mandate in 2014, there was a structural shift in the way India voted," said WisdomTree in a recent note. "Unlike as in previous governments, this was the first time in three decades that a single political party got a clean mandate in India's typically fractured, fragmented and coalition-based political system. So, expectations were sky high, and the Modi government did not disappoint. What India has achieved in last few years is truly staggering."
For investors looking at a way to participate in the Indian stock market, an India ETF like the iShares MSCI India ETF is a nice induction into the growing economy.
The iShares MSCI India ETF (INDA) seeks to track the investment results of an index composed of Indian equities. The fund offers exposure to large and mid-sized companies in India, and provides targeted access to the Indian stock market.