By Drew Anderson
Product Analyst
Cobots offer safe, versatile automation in manufacturing. With unique features and minimal programming, they're championed by industry leaders like ABB and Fanuc, presenting a lucrative investment avenue.
Collaborative robots, or cobots, are transforming manufacturing by offering safe and cost-effective automation solutions. Unlike traditional industrial robots, cobots are designed to work alongside humans, providing a wide range of applications with ease of use that improves the efficiency and safety of the workplace.
What are Cobots?
Cobots represent a new generation of robots with distinctive features that closely resemble those found in octopuses. The adaptive and flexible nature of cobots is notable. They can be easily reprogrammed or reconfigured to perform different tasks, enhancing their versatility. One characteristic commonly found is suction-based gripping mechanisms. This mechanism allows them to handle delicate objects and materials with precision. These attributes establish cobots as a pioneering force in robotics, drawing inspiration from nature's own master of adaptability and resourcefulness.
Cobots are also designed to work harmoniously with human operators. Highly intuitive and teachable, they require minimal programming skills, which makes them easy to use. This makes them accessible to a broader range of users, including those without extensive technical expertise. The most important feature cobots offer is safety. Safety is paramount, and cobots are built with advanced safety features that allow them to operate safely in close proximity to humans. Human-friendly design fosters a collaborative work environment, reducing the need for physical barriers.
How Do Cobots Differ from Traditional Robots?
Compared to traditional industrial robots, cobots offer a range of advantages. First, they exhibit remarkable versatility, capable of executing diverse tasks. This adaptability renders them suitable for a broad spectrum of applications spanning various industries. Cobots present an affordability factor that sets them apart. In contrast to their conventional counterparts, cobots come with a more budget-friendly price tag. This cost-effectiveness empowers smaller businesses to embrace automation without bearing significant upfront expenses.
Cobots are also designed to integrate with human workers seamlessly. This results in safer collaboration, minimizing the need for physical barriers. The work environment becomes more harmonious and productive as cobots coexist with their human counterparts. Another notable advantage is space efficiency. Their compact footprint allows them to fit comfortably within constrained production spaces or conveniently relocate across the factory floor. This contrasts with traditional robots that might demand larger dedicated work areas, thereby increasing infrastructure costs and limiting spatial flexibility.
Forecast for Global Cobot Market – Shipments
Source: Interact Analysis 2023.
The cobot market is witnessing significant growth thanks to the continuous efforts of industry leaders who invest heavily in research and development. Several notable companies are at the forefront of driving this revolution. ABB, for instance, is renowned for introducing the YuMi cobot, celebrated for its versatility and affordability. This particular cobot has found application in diverse contexts, including the remote Amazon Rainforest, where it aids in the fight against deforestation. Similarly, Fanuc, a global automation leader, stands out with its cobots that excel in precision and cutting-edge applications.
A prime example is the CR-35iB model, engineered to lift heavy loads exceeding 100 pounds effortlessly. Yaskawa also has made a name for itself through its robust and high-performance cobots. Noteworthy is the MOTOMAN-HC series, specifically designed to endure even the harshest working environments with its dust- and drip-proof features.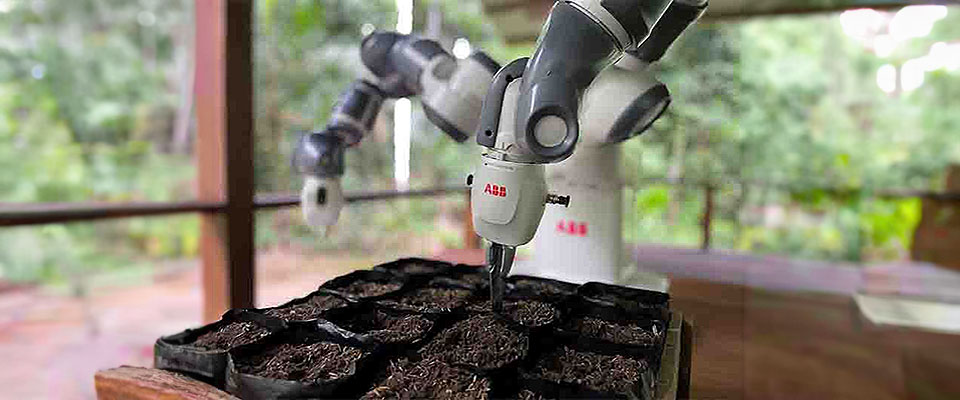 ABB's YuMi® automates seed planting, making reforestation in the Amazon faster, more efficient, and scalable.
How Profitable and Revenue-Generating are Cobots?
Cobots are cheaper and more versatile than industrial robots, making them a more attractive option for businesses of all sizes. A standard one with accessories costs about $50,000, while a traditional industrial robot can cost upwards of $75,000 (RobotIQ). Cobots can also provide a longer useful life due to their versatility, rather than industrial robots that typically only perform one function. As labor costs continue to rise, the demand for automation in manufacturing is driving their adoption. Cobots are likely a more profitable choice for manufacturers than traditional industrial robots. They are more affordable, versatile, and flexible. As labor costs continue to rise, the demand for cobots will grow.
How Can You Invest in Cobots?
Collaborative robots are reshaping the manufacturing landscape with their safety, versatility, and cost-effectiveness. Leading companies are at the forefront of cobot innovation, contributing to the industry's growth and profitability. The VanEck Robotics ETF (IBOT) is one way to embrace the cobot revolution as the automation trend continues to shape the future of manufacturing. This ETF tracks the performance of the robotics industry, including manufacturers of cobots and companies engaged in developing related software and technologies.
To receive more Thematic Investing insights, sign up in our subscription center.
Originally published by VanEck on September 20, 2023. 
---
Important Disclosures
ABB Ltd is 5.11% of IBOT net assets as of 9/13/23.
Fanuc Corp is 2.66 % of IBOT net assets as of 9/13/23.
Yaskawa Electric Corp is 1.01% of IBOT net assets as of 9/13/23.
This is not an offer to buy or sell or a recommendation to buy or sell any of the securities/financial instruments mentioned herein. The information presented does not involve the rendering of personalized investment, financial, legal, or tax advice. Certain statements contained herein may constitute projections, forecasts and other forward-looking statements, which do not reflect actual results, are valid as of the date of this communication and subject to change without notice. Information provided by third party sources are believed to be reliable and have not been independently verified for accuracy or completeness and cannot be guaranteed. VanEck does not guarantee the accuracy of third-party data. The information herein represents the opinion of the author(s), but not necessarily those of VanEck or its employees.
An investment in the Fund may be subject to risks which include, among others, investing in the robotics industry, information technology sector, industrials sector, equity securities, medium-capitalization companies, Japanese issuers, foreign securities, semiconductor industry, depositary receipts, market, operational, index tracking, authorized participant concentration, new fund, no guarantee of active trading market, trading issues, passive management, fund shares trading, premium/discount and liquidity of fund shares, non-diversified and concentration risk, all of which may adversely affect the Fund. Medium-capitalization companies may be subject to elevated risks.
BlueStar® Robotics Index is the exclusive property of MarketVector Indexes GmbH (a wholly owned subsidiary of Van Eck Securities Corporation), which has contracted with Solactive AG to maintain and calculate the Index. Solactive AG uses its best efforts to ensure that the Index is calculated correctly. Irrespective of its obligations towards MarketVector Indexes GmbH, Solactive AG has no obligation to point out errors in the Index to third parties. The VanEck Robotics ETF is not sponsored, endorsed, sold or promoted by MarketVector Indexes GmbH and MarketVector Indexes GmbH makes no representation regarding the advisability of investing in the Fund.
An investor cannot invest directly in an index. Returns reflect past performance and do not guarantee future results. Results reflect the reinvestment of dividends and capital gains, if any. Certain indices may take into account withholding taxes. Index returns do not represent Fund returns. The Index does not charge management fees or brokerage expenses, nor does the Index lend securities, and no revenues from securities lending were added to the performance shown.
Investing involves substantial risk and high volatility, including possible loss of principal. An investor should consider the investment objective, risks, charges and expenses of a Fund carefully before investing. To obtain a prospectus and summary prospectus, which contain this and other information, call 800.826.2333 or visit vaneck.com. Please read the prospectus and summary prospectus carefully before investing.
© Van Eck Securities Corporation, Distributor, a wholly owned subsidiary of Van Eck Associates Corporation.