U.S. president Joe Biden's $2 trillion infrastructure proposal was expected to give municipal bonds a boost, and so far, the proof is in the pudding. Data from municipal bond space show that inflows have been surging, giving exchange traded fund (ETF) investors something to cheer about.
With Biden's proposal, local and state government bonds are expected to help fund the ambitious plan to improve the country's infrastructure. From the traditional roads and bridges to new initiatives to bolster internet access and renewable energy sources, municipal bonds will be at the forefront of the plan's funding.
This, in turn, is fueling investor demand for munis. Rather than hold individual debt issues, fixed income investors can get access to the municipal debt market through the ETF wrapper.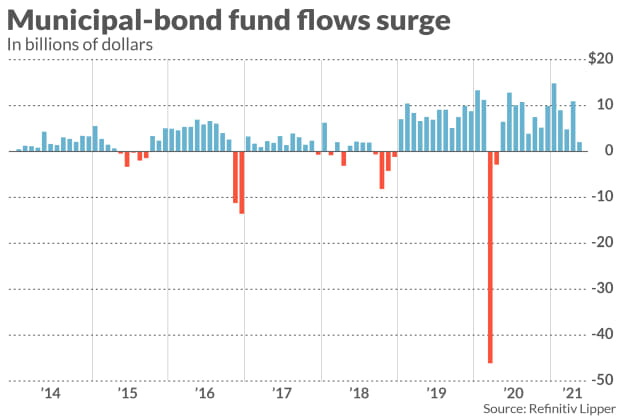 Email ico"The municipal bond market is on a tear this year," a MarketWatch report explained. "Concerns about rising taxes, a search for even a little bit more yield than what's offered by Treasurys, and a bet that states and local entities would benefit from the Biden administration's stimulus plans have boosted investor interest in the sector."
"Data from Refinitiv Lipper (as shown in the chart above) shows that through mid-May, investors had plowed $41.7 billion into muni-bond funds," the article added further. "That's nearly the same amount as in all of last year, putting 2021 on track to be one of the best years in history."
One Vanguard Option
Fixed income investors can reap the benefits of tax-advantaged municipal bonds through ETFs. One option worth consider is the Vanguard Tax-Exempt Bond ETF (VTEB).
VTEB tracks the Standard & Poor's National AMT-Free Municipal Bond Index, which measures the performance of the investment-grade segment of the U.S. municipal bond market. MUB seeks to track the investment results of the S&P National AMT-Free Municipal Bond IndexTM, which also measures the performance of the investment-grade segment of the U.S. municipal bond market.
The sampling approach means that both funds hold a subset of bonds within the index in order to replicate the yield, duration, and credit quality of the debt. This method allows the funds to avoid trading expensive bonds that could harm performance, and, in addition, minimize tracking errors.
For more news, information, and strategy, visit the Fixed Income Channel.