By Suzanne Smetana, Head of ESG Investment Integration, State Street Global Advisors
EXECUTIVE SUMMARY
In a dramatic change from the previous administration, we expect the administration of President Joseph Biden to implement a broad range of policy changes meant to mitigate climate risk and bring the US back into the global sustainability conversation. We will be monitoring several themes that we believe could arise under the Biden presidency:
Rising Calls for ESG Disclosure
Stricter Climate Regulations
Changing Operational Backdrops in Various Industries
Investors Increasingly Pricing ESG Criteria Into Decision-Making
US Department of Labor (DOL) ESG Rule
RISING CALLS FOR ESG DISCLOSURE
In the ESG space, some investors distinguish between broad, high-level "principles-based" disclosures, which were championed by the previous administration,[1] and "rules-based" disclosures, which are pinpointed metrics such as water usage or carbon emissions. The Biden administration could signal a shift to more rules-based disclosures, especially in climate risk, increasing the need for companies to track ESG metrics.
We also note that Biden enters office amid a greater focus on global standardization of ESG disclosure, exemplified by greater collaboration amongst standard-setting institutions. In November, the US Sustainability Accounting Standards Board and the Integrated Reporting Council announced their merger, and five of the most respected sustainability frameworks and standard-setting institutions[2] recently agreed to band together on comprehensive corporate reporting. In September, Trustees of the IFRS Foundation published a paper assessing the option of creating a Sustainability Standards Board that would set international standards and run alongside the International Accounting Standards Board.[3]
Points listed later in the piece — greater regulatory attention and further acceptance of the link between ESG performance and returns — could also generate greater demand for ESG assets and enhanced disclosure.
STRICTER CLIMATE REGULATIONS
Biden has pledged $2 trillion to help the US meet sustainable targets and improve infrastructure to be more environmentally sound. He also plans to expand government research and create a cross-agency Advanced Research Projects Agency on Climate (ARPA-C), which would invest in research on decarbonization, hydrogen technologies and other environmental innovations.[4]
Biden has assembled a climate team that includes former Secretary of State John Kerry as special envoy on the climate crisis, and for the first time, the person in this role will also sit on the US National Security Council. To lead the Environmental Protection Agency, Biden has tapped Michael Regan, who was the top environmental regulator for North Carolina. Biden has also announced plans to hold a climate summit of the world's major economies within his first 100 days of office.
Importantly, in November, Biden committed to rejoining the Paris Accord.[5] Under the agreement, the US joins nearly 200 countries in the aim to limit global warming to below 2ºC, with further aspiration of a 1.5ºC limit. Biden has also proposed US carbon neutrality by 2050.[6] With this target, the US would be adding to commitments made last year by the EU, Japan and South Korea to be net zero by 2050, with China aiming for 2060. China and the US could make a meaningful dent in global emissions, given that they are the first- and second-largest emitters in the world, respectively.[7]
Partly due to new goals across the world, the projection for emissions in year 2100 has declined by 0.7ºC over the last five years, falling to 2.6ºC at the end of 2020. The Biden commitment alone accounts for a 0.1ºC drop in expected global emissions.[8] In the US, the nationally-determined contributions set by US policymakers leading up to 2050 will help determine whether the US can meet its emissions objectives. Helping move towards this target area, a number of states have already committed to carbon neutrality (Figure 1).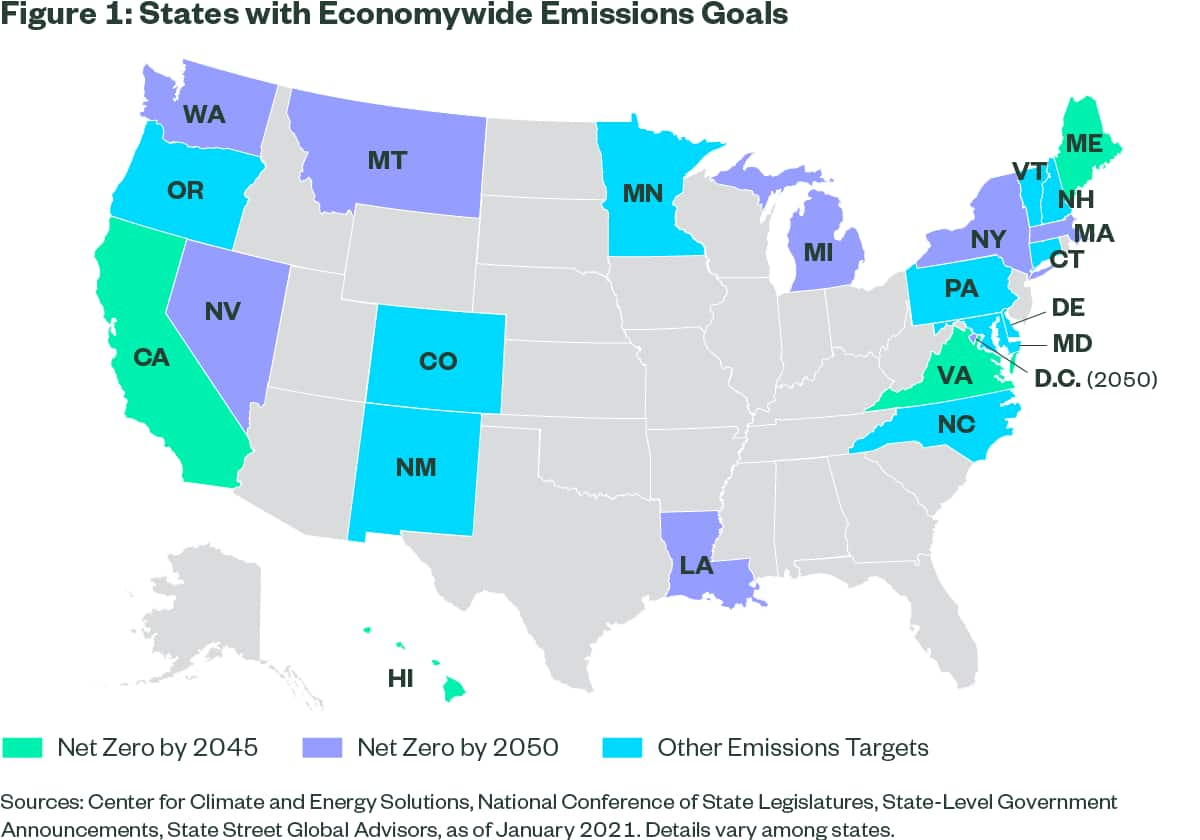 CHANGING OPERATIONAL BACKDROPS IN VARIOUS INDUSTRIES
Already, investors have been putting greater focus on climate risks in portfolios due to calls from stakeholders, extreme weather events, social externalities, and recognition that companies proactively managing climate risks are often more resilient. New environmental regulation could further impact sectors such as manufacturing, utilities, housing and agriculture.
Unsurprisingly, some of the most potent impacts of the new environmental proposals relate to the auto industry. In December, Biden said that he wants to have 500,000 charging stations installed for electric cars and make heavy investments in electric vehicle manufacturing.[9] Biden also aims to implement new fuel economy standards that require heavy duty vehicles to make annual efficiency improvements and 100% of new sales of light and medium vehicles to come from zero-emission vehicles.[10]
For the oil and gas industry, Biden has targeted the elimination of carbon emissions from natural gas and coal power plants by 2035, and he has stated the need for interim targets prior to 2025.[11] As a result, investing in renewables could swell sharply in both the public and private sectors.
The new president also plans to boost government investment in water systems, electricity grids and transportation networks, which could impact companies in the utilities and manufacturing industries. The housing sector could be impacted by upgrades in commercial and residential buildings,[12] while stricter building standards could benefit green appliance companies.
Of course, many of Biden's business proposals apply to all sectors, such as his agenda items that hang on the "S" of ESG. For example, Biden has announced planned measures to improve racial equity, increase unionization support, raise the minimum wage and support worker protection.
INVESTORS INCREASINGLY PRICING ESG CRITERIA INTO DECISION-MAKING
The pricing of ESG exposures has become more prevalent among investors, according to research from Professor George Serafeim at Harvard Business School.[13] The market's premium/ discount for companies with strong ESG performance fell in 2016 in line with that year's presidential election, perhaps because markets expected the Trump administration to reduce the corporate benefits gained from ESG efforts.[14] As we enter Biden's term, investors may expect a closer link between ESG and profitability/social externalities. Biden's new policies will come on top of data showing that sustainable and ESG equity indices outperformed conventional indices during spikes of volatility in 2020 (Figure 2).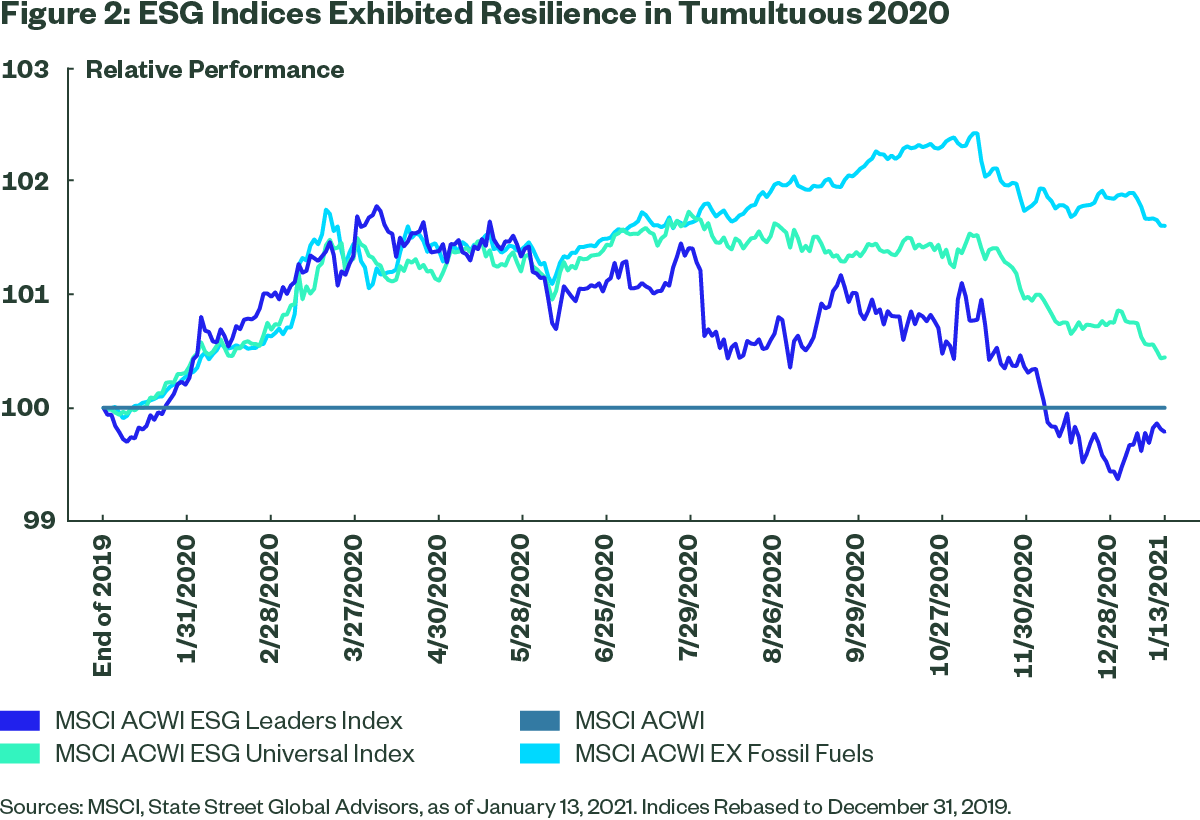 DOL ESG RULE
In November, the DOL released its final rule on ESG investing, entitled "Financial Factors in Selecting Plan Investments."[15] While the precise future of the rule is uncertain, the new administration could view the consideration of ESG factors more favorably and seek to reconsider the DOL's regulation and its position on ESG adoption by retirement plans. Exhibiting a shift in leadership in the DOL, Biden has appointed Boston, Massachusetts Mayor Martin J. Walsh to succeed Eugene Scalia as Secretary of Labor.
CONCLUSION
As we discussed in our paper, "The New Normal: ESG Investing in 2021," we expect ESG to become more prominent on multiple dimensions, most notably in the US. While it's is far too early to accurately determine Biden's impact on ESG Investing, US investors should be prepared for a significantly greater focus and prioritization of ESG polices in the coming months and years. And the support from the US may provide additional heft to global efforts. We look forward to keeping clients informed of shifts in the ESG landscape under the Biden presidency.
Originally published by State Street, 1/20/21
---
1 See remarks from former Chairman of the SEC Jay Clayton, comments located at: https://www.sec.gov/news/speech/clayton-economic-club-ny-2020-11-19.
2 The CDP, Climate Disclosure Standards Board (CDSB), Global Reporting Initiative (GRI), International Integrated Reporting Council (IIRC) and Sustainability Accounting Standards Board (SASB).
3 Consultation Paper on Sustainability Reporting, the IFRS Foundation. See: https://cdn.ifrs.org/-/media/project/sustainability-reporting/consultation-paper-on-sustainability-reporting.pdf?la=en.
4 See https://joebiden.com/climate-plan/, The Biden Plan for a Clean Energy Revolution and Environmental Justice.
5 Joe Biden official Twitter account, November 4, 2020.
6 See https://joebiden.com/climate-plan/, The Biden Plan for a Clean Energy Revolution and Environmental Justice.
7 World Economic Forum, see https://www.weforum.org/agenda/2019/06/chart-of-the-day-these-countries-create-most-of-the-world-s-co2-emissions/.
8 Climate Action Tracker. "Global Update: Paris Agreement Turning Point." https://climateactiontracker.org/publications/global-update-paris-agreement-turning-point/.
9 See https://joebiden.com/clean-energy/, The Biden Plan To Build A Modern, Sustainable Infrastructure And An Equitable Clean Energy Future.
10 See https://joebiden.com/9-key-elements-of-joe-bidens-plan-for-a-clean-energy-revolution/, 9 Key Elements of Joe Biden's Plan for a Clean Energy Revolution.
11 See https://buildbackbetter.gov/priorities/climate-change/. Climate Change: The Biden-Harris plan to create union jobs by tackling the climate crisis.
12 See https://buildbackbetter.gov/priorities/climate-change/. President Biden has proposed upgrading 4 million buildings and weatherizing 2 million homes over 4 years.
13 Serafeim, George, Public Sentiment and the Price of Corporate Sustainability (October 12, 2018). Financial Analysts Journal, 76 (2): 26-46., Available at SSRN: https://ssrn.com/abstract=3265502 or http://dx.doi.org/10.2139/ssrn.3265502.
14 Serafeim, George, Public Sentiment and the Price of Corporate Sustainability (October 12, 2018). Financial Analysts Journal, 76 (2): 26-46., Available at SSRN: https://ssrn.com/abstract=3265502 or http://dx.doi.org/10.2139/ssrn.3265502.
15 Employee Benefits Security Administration, Department of Labor. Final Rule, Published November 13, 2020. See https://www.dol.gov/newsroom/releases/ebsa/ebsa20201030.
Ssga.com
State Street Global Advisors Worldwide Entities
The views expressed in this material are the views of Suzanne Smetana through the period ended January 20, 2021 and are subject to change based on market and other conditions. This document contains certain statements that may be deemed forward-looking statements. Please note that any such statements are not guarantees of any future performance and actual results or developments may differ materially from those projected.
Investing involves risk including the risk of loss of principal. Past performance is no guarantee of future results.
The information provided does not constitute investment advice and it should not be relied on as such. It should not be considered a solicitation to buy or an offer to sell a security. It does not take into account any investor's particular investment objectives, strategies, tax status or investment horizon. You should consult your tax and financial advisor.
Investing involves risk including the risk of loss of principal.
The whole or any part of this work may not be reproduced, copied or transmitted or any of its contents disclosed to third parties without SSGA's express written consent.
All information is from SSGA unless otherwise noted and has been obtained from sources believed to be reliable, but its accuracy is not guaranteed. There is no representation or warranty as to the current accuracy, reliability or completeness of, nor liability for, decisions based on such information and it should not be relied on as such.