By Carlo Maximilian Funk, EMEA Head of ESG Investment Strategy
The transition to a low-carbon economy could occur faster than investors may think.
Climate change has already become one of the most prominent line items on the world's agenda. But we believe that its impact on the global macroeconomy is just beginning and increasing in pace. In our view, investors should think of the transition to a low-carbon economy as a multi-dimensional shock event, spread out over time, that will have major regulatory and economic consequences and profound investment implications. Investors who think the pace of climate-related change in markets/economies will be slow could be in for a major surprise.
A Stronger and Faster Transition
Recent events, country-specific incentives, and multiple positive feedback loops are setting the stage for faster movement toward decarbonization in 2022 and beyond.
First, COP26 highlighted the urgency of global action. Under the Paris Agreement in 2015, nearly every country agreed to work together to limit global warming to well below 2 degrees Celsius, with an aim of 1.5 degrees. However, data shows that the targets that countries announced in Paris do not remotely reach that goal. COP26, which was seen as an opportunity for countries to make more aggressive targets, resulted in a wide range of outcomes. (For more of our thinking on the ramifications of COP26, see Post COP26: Outcomes and Opportunities.)
Second, we note that decarbonization has second-order effects that could drive heavier participation from developed and emerging markets. For example, geopolitical superpowers (the US, China, and Europe) are incentivized to stay on top of the race to become a climate leader because the transformation to a low-carbon economy will come with enormous opportunities (similar to other disruptive shifts, like digitalization). India is seeking to become a global power, but it is also the third-largest emitter behind China and the US (see Figure 1). India's pledges made at COP26 are less aggressive than those of other countries, but the fact that India made a net-zero pledge is still a significant development. Also, most developed market economies are net energy importers under the current fossil fuel regime. Decarbonization could therefore improve the balance of trade for these nations (see Figure 2).
Figure 1: India Represents an Opportunity for Increased Decarbonization
Figure 2: Decarbonization Could Improve the Balance of Trade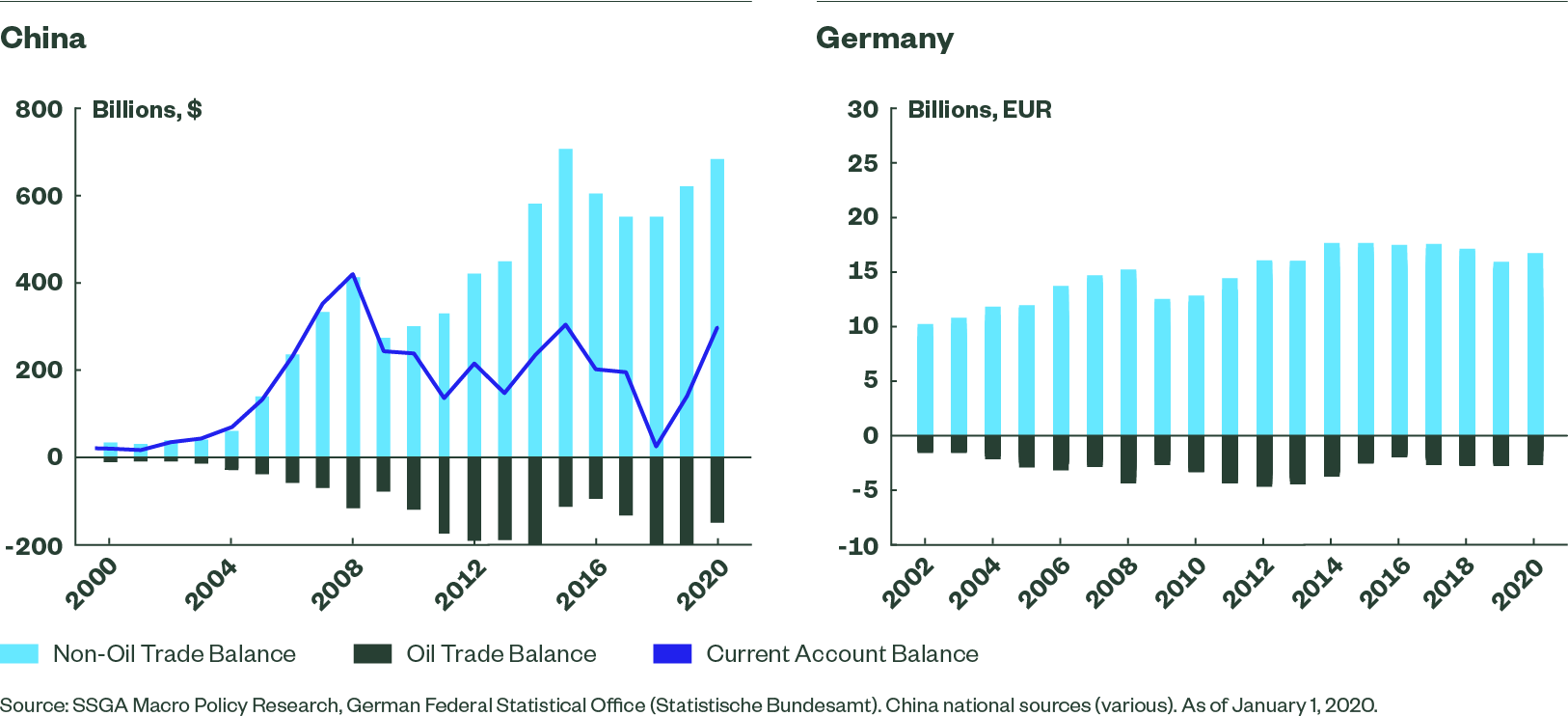 Finally, positive feedback loops underpinned by innovation will likely lead to a mass displacement of fossil fuels by renewables — potentially much more quickly than many would anticipate. These loops include:
The volume-cost feedback loop. As renewable energy volumes rise, costs for businesses and consumers fall, which then spurs more volumes. On the flip side, falling fossil volumes mean lower utilization rates, which increase fossil fuel costs and drive down demand. Capital spending by the incumbent energy sector has already started to drift lower — even as crude oil prices have ticked higher — as oil and gas companies have reduced spending on petroleum.
The technology feedback loop. As more electric vehicles come on the road, battery costs decline, which then increases renewable penetration. By contrast, peaking fossil fuel demand means a collapse in the innovation of fossil fuel-based technologies.
The expectations feedback loop. As demand for renewable energy continues to grow, oil and gas incumbent earnings and operational forecasts will look less credible. As traditional energy companies' models change, so too do the perceptions of investors and policymakers, driving price movement and revised expectations.
The finance feedback loop. As growth in renewable demand leads to more capital contribution from investors, the cost of capital for renewable energy companies falls, enabling even more expansion. In contrast, the greener economy will force fossil fuel companies to face higher costs of financing. Note, for example, that an annual $1 trillion in green bond issuance is expected by 2023, versus $228 billion in the first half of 2021, according to the Climate Bonds Initiative.1
In addition, the broader society feedback loop, the politics feedback loop, and the geopolitics feedback loop will further accelerate this transformation. As society becomes more concerned with the climate crisis and comes to better understand the financial benefits of renewable technology, people will likely change their behavior. Politicians in turn will likely realize that renewables can generate more "gain" than "pain" (see Figure 3), and geopolitical superpowers may see similar opportunities, leading to a race of one-upmanship that accelerates the movement toward decarbonization. (For more details, see Spiralling Disruption: The Feedback Loops of the Energy Transition.)
Figure 3: Job Generation from Renewables Could Move Policy Agendas
(Solar Jobs, Millions)
Implications for Investors
While we have already seen long-term investment move away from the incumbent energy sector, we know that most diversified investors still have significant exposure to fossil fuels via various value chains, both in the equity and fixed income markets. To manage the climate transition, investors should consider the following:
The need to obtain clarity regarding their exposure to the fossil fuel sector and the associated risks. A massive economic depreciation exercise for carbon-heavy assets, alongside an appreciation exercise for carbon-neutral assets, is looming, and this situation will present risks as well as opportunities. Investors with a solid understanding of the regulatory and economic implications of the transition to a low-carbon economy can build more resilient portfolios and take advantage of these opportunities. Portfolio analysis using forward-looking climate metrics is a key element of this process, so finding the correct analytical tools regarding transition forecasts and physical risk models is crucial for investors.
The increasing importance of stewardship and engagement. It is well understood that divestment alone is not an adequate option for investors and can, at times, also curb the benefits of efforts to allocate capital sustainably (see Engage or Divest? The Question at the Heart of Climate Impact).
The consequences of regulatory change — better disclosure and new financial models with which to integrate changing ESG criteria. The IFRS Foundation announcement regarding the establishment of the International Sustainability Standards Board (ISSB) is an important step in the quest for better ESG disclosure. The inclusion of carbon pricing into equities-market valuations still poses modelling challenges for investors, and pricing considerations will have implications on valuations and credit analysis.
The effect of decarbonization on corporate earnings. Government fiscal policies to help build sustainable economies could also lead to company balance sheet damage from tax increases, even if these tax hikes are shared with households. In addition, decarbonization is a structural inflation driver for economies, as the inputs and technologies for sustainable businesses are still in their infancy. This could hit carbon-intensive sectors particularly hard. On the positive side, investors could benefit from opportunities in green technology such as low-carbon steel and cement, carbon offset technologies, and biofuels (just to name a few). Investors could also benefit from the pairing of greening and digitization, with an expected acceleration in software and artificial intelligence (AI) related to climate change.
Closing Thoughts
Investors are facing a potentially parabolic rise in climate awareness in coming years, and positioning for this reality is prudent for portfolio management. The drivers of increasing interest in decarbonization include the outcomes of COP26 and many positive feedback loops that will push climate even more to the forefront. Investors will likely benefit from greater disclosure requirements, but they will also need to effectively integrate climate risks and opportunities into financial models and deeply understand their carbon exposure.
Encouragingly, results from our recent global ESG survey of 300 institutional investors showed that most investors plan to implement decarbonization targets over the next three years (i.e., 71% in Europe, 70% in Asia Pacific, and 61% in North America). Investors plan to use a wide range of asset classes to express their climate targets and, in a change from our prior survey,2 they cite their responsibilities to drive the economic transition and to help to solve the global climate crisis as their top two reasons for pursuing climate investment strategies. These survey responses could imply that many market participants understand the expected acceleration in decarbonization, but they also show investor momentum — yet another potential driver of climate-related market movement. In sum, we believe that preparation for this shifting landscape is key.
Originally published by State Street Global Advisors on December 6, 2021.
For more news, information, and strategy, visit the ESG Channel.
1Jones, Liam. 2021 Green Forecast Updated to Half a Trillion – Latest H1 Figures Signal New Surge in Global Green, Social & Sustainability Investment. Climate Bonds Initiative, as of August 31, 2021.
2 State Street Global Advisors, Into the Mainstream: ESG at the Tipping Point (November 2019).
Important Information

Marketing Communication
The information provided does not constitute investment advice as such term is defined under the Markets in Financial Instruments Directive (2014/65/EU) or applicable Swiss regulation and it should not be relied on as such. It should not be considered a solicitation to buy or an offer to sell any investment. It does not take into account any investor's or potential investor's particular investment objectives, strategies, tax status, risk appetite or investment horizon. If you require investment advice you should consult your tax and financial or other professional advisor. All material has been obtained from sources believed to be reliable. There is no representation or warranty as to the accuracy of the information and State Street shall have no liability for decisions based on such information.
The views expressed in this material are the views of State Street Global Advisors through December 6, 2021 and are subject to change based on market and other conditions. This document contains certain statements that may be deemed forward-looking statements. Please note that any such statements are not guarantees of any future performance and actual results or developments may differ materially from those projected.
The trademarks and service marks referenced herein are the property of their respective owners. Third party data providers make no warranties or representations of any kind relating to the accuracy, completeness or timeliness of the data and have no liability for damages of any kind relating to the use of such data.
Investing involves risk including the risk of loss of principal.
The whole or any part of this work may not be reproduced, copied or transmitted or any of its contents disclosed to third parties without SSGA's express written consent. All the index performance results referred to are provided exclusively for comparison purposes only. It should not be assumed that they represent the performance of any particular investment.
Equity securities may fluctuate in value in response to the activities of individual companies and general market and economic conditions.
Bonds generally present less short-term risk and volatility than stocks, but contain interest rate risk (as interest rates raise, bond prices usually fall); issuer default risk; issuer credit risk; liquidity risk; and inflation risk. These effects are usually pronounced for longer-term securities. Any fixed income security sold or redeemed prior to maturity may be subject to a substantial gain or loss.
Investing in high yield fixed income securities, otherwise known as "junk bonds", is considered speculative and involves greater risk of loss of principal and interest than investing in investment grade fixed income securities. These lower-quality debt securities involve greater risk of default or price changes due to potential changes in the credit quality of the issuer.
There are risks associated with investing in Real Assets and the Real Assets sector, including real estate, precious metals and natural resources. Investments can be significantly affected by events relating to these industries.
Israel: No action has been taken or will be taken in Israel that would permit a public offering of the Securities or distribution of this sales brochure to the public in Israel. This sales brochure has not been approved by the Israel Securities Authority (the 'ISA').
Accordingly, the Securities shall only be sold in Israel to an investor of the type listed in the First Schedule to the Israeli Securities Law, 1978, which has confirmed in writing that it falls within one of the categories listed therein (accompanied by external confirmation where this is required under ISA guidelines), that it is aware of the implications of being considered such an investor and consents thereto, and further that the Securities are being purchased for its own account and not for the purpose of re-sale or distribution.
This sales brochure may not be reproduced or used for any other purpose, nor be furnished to any other person other than those to whom copies have been sent. Nothing in this sales brochure should be considered investment advice or investment marketing as defined in the Regulation of Investment Advice, Investment Marketing and Portfolio Management Law, 1995 ("the Investment Advice Law"). Investors are encouraged to seek competent investment advice from a locally licensed investment advisor prior to making any investment. State Street is not licensed under the Investment Advice Law, nor does it carry the insurance as required of a licensee thereunder.
This sales brochure does not constitute an offer to sell or solicitation of an offer to buy any securities other than the Securities offered hereby, nor does it constitute an offer to sell to or solicitation of an offer to buy from any person or persons in any state or other jurisdiction in which such offer or solicitation would be unlawful, or in which the person making such offer or solicitation is not qualified to do so, or to a person or persons to whom it is unlawful to make such offer or solicitation.
Investing in foreign domiciled securities may involve risk of capital loss from unfavorable fluctuation in currency values, withholding taxes, from differences in generally accepted accounting principles or from economic or political instability in other nations. Investments in emerging or developing markets may be more volatile and less liquid than investing in developed markets and may involve exposure to economic structures that are generally less diverse and mature and to political systems which have less stability than those of more developed countries.
© 2021 State Street Corporation. All Rights Reserved.
3932142.1.1.GBL.RTL
Exp. Date: 11/30/2022