Whitney Tilson's email to investors discussing Bill Ackman and Pershing's discount to NAV; question 4; reader feedback & comments.
1) After reading this story in today's WSJ, After Suffering Bruising Losses, Ackman Pursues Quiet Recovery, I called and left this tongue-in-cheek message for Bill Ackman, who's had some awful articles written about him
"Bill, I don't know if you've seen it yet, but there's a story in the Wall Street Journal today that – I hope you're sitting down – is actually POSITIVE!"
As you can tell by this photo of us, a) we go way back; b) he hasn't always had a silver mane; and c) I haven't aged a day (right???)!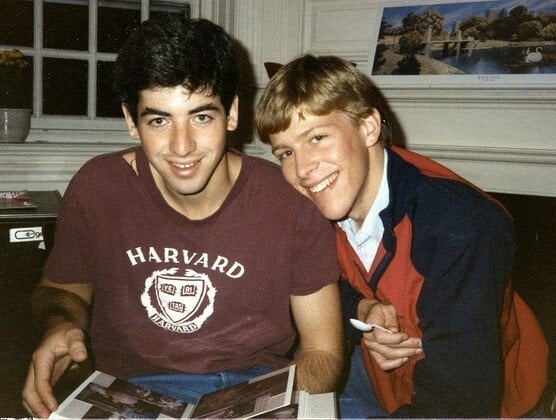 We met in the spring of my freshman year (his sophomore year) in 1986 when we were both hired to sell advertising in the Let's Go travel guides, which were written and published by Harvard students (those of you from my generation and older may remember backpacking through Europe with the "bible of the budget traveler," Let's Go: Europe).
We spent the summer in a cramped 6×10 foot room in the basement of Thayer Hall, smiling and dialing potential advertisers, with great success. We both ended up selling more than all three reps the previous year, so made nearly $15,000 each (click here to read my 24-page final report, which I recently found in my parents' attic).
For a brief moment, I thought I was rich…until I was dumb enough to tell my parents how much I'd made, at which point they promptly made me pay for the next year of my tuition. ARRRHHHH!!!
I also remember being horrified the following April, when I had to pay taxes for the first time – thousands of dollars! I remember saying to my dad, "But I'm a student!" He explained to me that the IRS didn't care. DOUBLE ARRRHHHH!!!
Bill and I came from very different backgrounds and we were two hyper-competitive guys placed into a hyper-competitive situation, so there was initially some friction, but eventually we became close friends and have remained so ever since, so I'm delighted to see him off to a strong start this year, following some very tough ones.
I owe Bill a debt of gratitude for teaching me so much over the years about investing and running a fund. I still remember exactly what he said when I called him in 1996 to ask for advice about how to invest the $10,000 in my checking account – the first savings of my entire life (up to that point, I'd been paying off my student loans, first from Harvard, then HBS): "Go read all of Warren Buffett's annual letters and you can stop there," he said. "You don't need to read anything else."
And thus began my journey as a value investor. Believe it or not, though I was nearly 30 years old and two years out of business school, I knew little about Buffett or investing. My parents were educators, having met and married in the Peace Corps, and neither they nor I had ever owned a stock.
But they knew how to squeeze a dollar until it screamed, so the foundation of value investing – hunting for dollar bills trading for 50 cents – immediately resonated with me.
Speaking of which, I think Bill's publicly traded entity, Pershing Square Holdings, which trades on both the London (PSH.L) and Euronext (PSH.AS) exchanges, is extremely undervalued today, trading at a 27% discount to its net asset value ("NAV"), so it's today's Stock Idea of the Day.
In effect, you can own Bill's portfolio at the price the stocks were at on January 1 – and have a call option on his future performance, which I think will be excellent because Bill is one of the best stock analysts I've ever seen – and I've seen a lot of them!
I can already hear the catcalls: "But what about Valeant, Herbalife, Borders, Target, etc.???"
Indeed, Bill has really stepped in it a few times in recent years. In fact, his ~$4 billion loss in Valeant may well be the biggest dollar loss in hedge-fund history.
But I can tell you from (hard) personal experience that being humbled can make someone a much better investor.
There's an old saying, "There are only two types of companies: those that are having problems and those that are going to have problems. Which would you rather invest in?" Well, the same is true for investors.
Anyone who's ever counted Bill out has been proven wrong. He's the most resilient futhermucker I've ever met.
If you'd like to take a deeper dive into PSH, it had its annual meeting in London last month, during which Bill gave a 58-page presentation. Here are some of the highlights:
Eight of the nine holdings in the fund are high-quality, blue-chip companies (the lone exception is a very interesting – albeit quite speculative – bet on Fannie Mae and Freddie Mac);
This year's outperformance hasn't been driven by any one stock – rather, pretty much everything has been working, driven by exceptionally strong operating results;
Bill and the board obviously think the stock is insanely cheap, as they've been buying it like crazy: last May, the company tendered for 9.5% of its shares (at "only" a 20.5% discount to NAV), plus "PSCM affiliates [mostly Bill]have purchased more than $520 million of PSH shares in the open market since May 2018," reducing the free float by 24.5% since last April; and
Beginning this quarter, PSH will begin paying a dividend of 2.5% at current prices.
PSH is a levered way to bet on Bill's comeback, because if his performance continues to be good, the discount to NAV will likely narrow, thereby turbocharging the returns to PSH shareholders. (Fair warning, though: that math works in reverse as well…)
In summary, take it from someone who knows him better than just about anyone: betting on Bill Ackman's comeback is likely to pay off.
2) Here's question 4 of 12 to ask before you tie the knot:
Do you share core values (philanthropy/making the world a better place, meritocracy, humility, life balance, spirituality, thinks before acting, looks for win-win solutions)?
3) Starting today, I'm introducing a new segment at the end of some of my emails, Reader Feedback and Comments. Here were some nice ones from my email from earlier this week (I only share full names when given permission to do so):
Thank you for sharing your wisdom on "questions to ask before you tie the knot." I have two college-age boys and these questions will be very useful for them. I definitely appreciate your wisdom on financial issues too. – Leslie Kalasky, Talbot Capital
We don't know each other but I've been on your email lists for years – probably since 2012 or so. I've always enjoyed your emails. They are in fact getting better, and I have a lot of fun reading them – nowadays more than ever. Keep up the great work and thanks so much for sharing, educating and entertaining! – Jeff LaMarca, Marcellus Capital Management
Out of the 10 best emails I receive a week, 4-5 of them are from you. – David K.
Thank you!
PS—I've moved from the beach to the pool: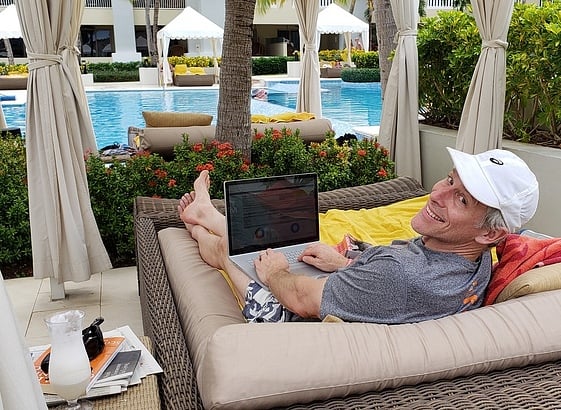 For more market trends, visit ETF Trends.