In a relatively quiet week for bonds, yields rose as investors prepared for this week's Federal Reserve "Fed" meeting, the last of the year. Chairman Powell and team are expected to raise the target Federal Funds rate by +0.50%, following a series of four +0.75% increases. Roughly another +0.50% is expected from the Fed by mid-2023 (Chart 2).
The last week brought mixed news as to whether the economy is slowing enough for the Fed to continue its rate "pivot." One the one hand, strong November employment, hourly earning and PPI data signaled vigilance, while falling gas prices, a collapse in the housing market, and a sharply inverted yield curve augur a potentially painful recession. Yields rose as the market gave back gains from November (Table).
The futures market is expecting significantly improved inflation of 2.2% in one year (Chart 3), a figure that has dropped from over 6% in March and continues to fall.
While currently bad news for the economy is good news for markets, this sentiment will start to shift as the Fed slows its policy actions, and bad news for the economy (slowing too much) will become bad news for the markets.
Spreads improved last week, with Emerging Markets and High Yield tightening by 5-10 bps. As a result, total returns were mostly flat on the week for credit as spreads pulled in the opposite direction of rising yields (Chart 1).
While one-week and three-month returns are lackluster (Chart 4), the fourth quarter is shaping up strongly for credit as investors have turned more positive and driven spreads lower (Chart 5). US High Yield and Emerging Markets have returned +5.6% and +7.0%, respectively, since September 30, 2022, handily surpassing the +2.1% gain in Treasuries.
Single-B and BB High Yield indices are up +4.3% and 3.8%, respectively, for the last month, capping -9.2% year-to-date returns for both groups (Chart 6).
Market Data, Returns, Spreads and Yields as of Dec. 9, 2022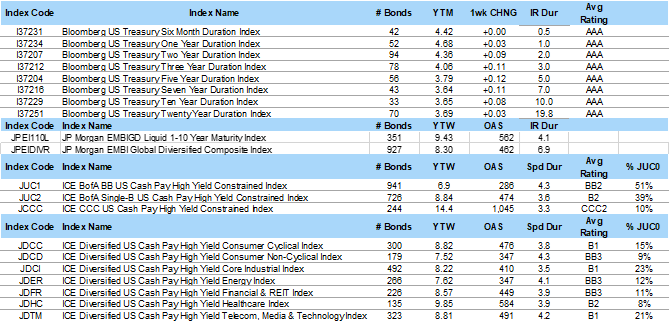 The Week By The Numbers
Sources: Ice Data Services, JP Morgan, IHS Markit, Bloomberg, TRACE, BondBloxx