by Bill O'Grady, Thomas Wash, and Patrick Fearon-Hernandez, CFA
Since early June, oil prices have fallen significantly, breaking the psychologically important point of $100 per barrel.  Technical support exists at $95 per barrel, so we will be watching to see if it holds.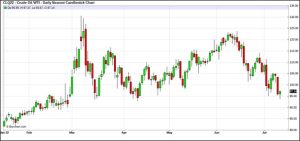 (Source: Barchart.com)
Crude oil inventories rose 3.3 mb compared to a 1.5 mb draw forecast.  The SPR declined 6.9 mb, meaning the net draw was 3.6 mb.

In the details, U.S. crude oil production fell 0.1 mbpd to 12.0 mbpd.  Exports rose 0.4 mb, while imports fell 0.6 mbpd.  Refining activity rose 0.4% to 94.9% of capacity.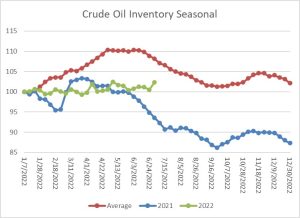 (Sources: DOE, CIM)
The above chart shows the seasonal pattern for crude oil inventories.  It is clear that this year is deviating from the normal path of commercial inventory levels.  Although it is rarely mentioned, the fact that we are not seeing the usual seasonal decline is a bearish factor for oil prices.
Since the SPR is being used, to some extent, as a buffer stock, we have constructed oil inventory charts incorporating both the SPR and commercial inventories.

Total stockpiles peaked in 2017 and are now at levels seen in 2004.  Using total stocks since 2015, fair value is $101.09.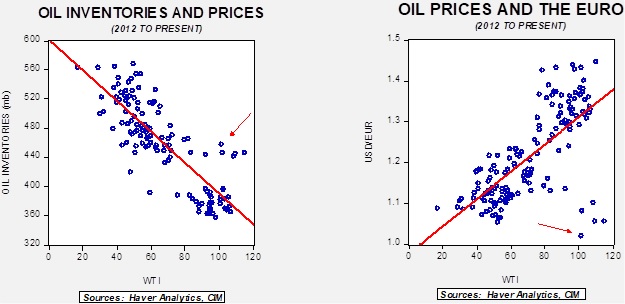 With so many crosscurrents in the oil markets, we see some degree of normalization.  The inventory/EUR model suggests oil prices should be around $65 per barrel, so we are seeing about $35 of risk premium in the market.
Gasoline demand:
In general, gasoline demand is price inelastic, which is "econ talk" for demand being insensitive to price.  Since substitutes for gasoline are mostly non-existent, consumers trying to adapt to higher prices are left with other methods, such as carpooling, combining trips, or using public transportation.  Unfortunately, data on public transportation is only available through Q1.  However, the data does suggest that ridership is well below pre-pandemic levels.  In the long run, demand can fall if car owners shift to more fuel-efficient vehicles; the work-from-home movement may also lead to lower structural demand.
At the same time, gasoline demand is very elastic to economic growth; as growth slows, demand declines.  We are seeing clear evidence of weakening demand.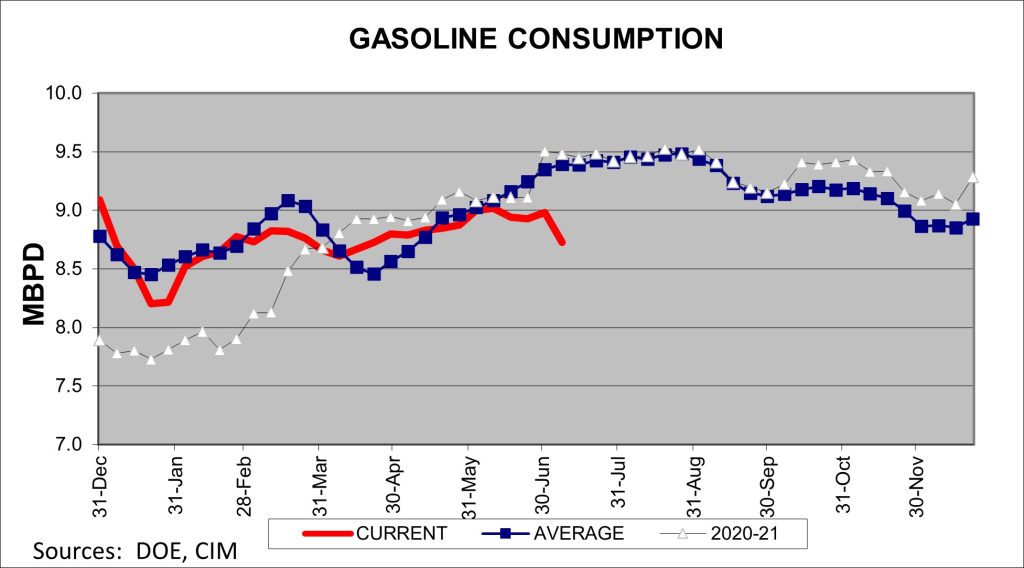 Seasonally, this is where we usually see peak demand.  The fact that demand is falling and that it is usually price insensitive likely argues that the economy is weakening.
 Market news:
As the above price chart shows, oil prices have come down hard recently. However, the IEA still says that the energy crisis remains a problem and is likely to get worse before conditions improve.
In times of supply uncertainty, the hoarding instinct sets in; nations try to ensure they will have adequate supplies even if it means other nations are left short. We note that India has announced export curbs on diesel, an example of such behavior.  Meanwhile, Europe is aggressively buying up global LNG, which is denying the product to poorer nations.
Oil and gas workers in Norway went on strike; the government stepped in to end it.
One of the characteristics of the postwar world in the U.S. has been the expansion of the regulatory state. Congress has tended to delegate the responsibility to agencies by granting them wide latitude.  This trend has created a backlash.  George Friedman has suggested that we are ending the era of the "rule of experts," mostly because experts tend to have a narrow focus and, thus, when making recommendations their regulations can often ignore collateral issues that impose unexpected costs.  A recent Supreme Court ruling looks to counteract this state of affairs by reducing the ability of the regulatory agencies to impose rules not specifically granted by Congress.  This action notably affected the EPA's ability to regulate greenhouse gasses.
Although the Biden administration initially wanted to curtail new oil and gas leases, high prices have led the White House to walk back that position. For example, the Willow project in Alaska is still being considered.  This stance has not been well received by the environmental wing of the president's party.  Interestingly enough, the new policy shift  hasn't exactly thrilled the oil and gas industry either.
As oil prices have increased, China has aggressively switched to coal and so has Europe. Russia has been increasing coal exports, which is making a comeback as oil and natural gas prices rise.
A new surge in COVID cases in Shanghai has raised worries about another lockdown. If Beijing implements such policies, it would be bearish for oil prices.
 Geopolitical news:
It's a big week in geopolitics and energy.
 Alternative energy/policy news:
---
[1] Lacking an effective tort bar is useful for such efforts.
These reports were prepared by Confluence Investment Management LLC and reflect the current opinion of the authors. Opinions expressed are current as of the date shown and are based upon sources and data believed to be accurate and reliable. Opinions and forward-looking statements expressed are subject to change. This is not a solicitation or an offer to buy or sell any security. Past performance is no guarantee of future results. Information provided in this report is for educational and illustrative purposes only and should not be construed as individualized investment advice or a recommendation. Investments or strategies discussed may not be suitable for all investors. Investors must make their own decisions based on their specific investment objectives and financial circumstances.