by Asset Allocation Committee | PDF

The residential real estate market has made a strong recovery over the past year.  Virtually all areas of housing, including home prices, starts, and ownership are showing signs of strength. Let's start with prices.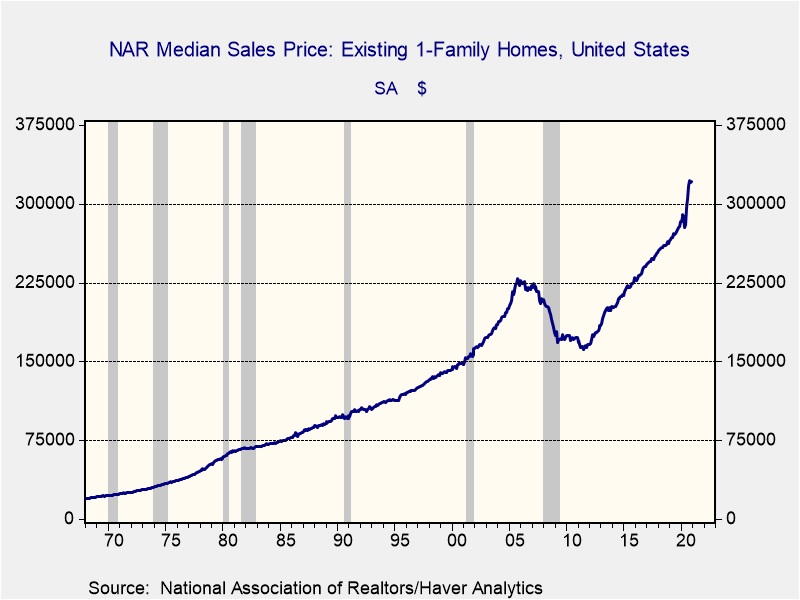 Home prices have been very strong recently. This chart shows single-family existing home sales. Over the past year, existing home prices are up 13.4%.  Increases of this magnitude or higher only occur 4.8% of the time.  New home prices are up as well, but not to the same degree; the median new home price is up 8.0%. Price increases of that level or higher occur about 35% of the time.
Despite this rise in prices, housing affordability remains high. A rising NAR affordability index suggests easy buying conditions. The current reading is off its recent highs but well above the levels seen in 2005.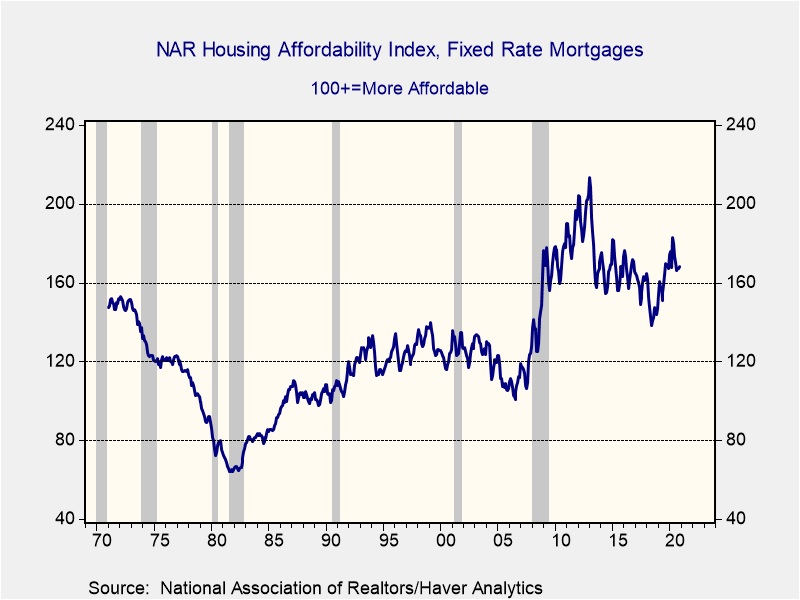 The index combines home prices, average wages, and mortgage rates. The latter two have improved the index recently,[1] offsetting the impact of higher home prices.
The rapid rise in household formation should provide a catalyst for continued home sales and construction.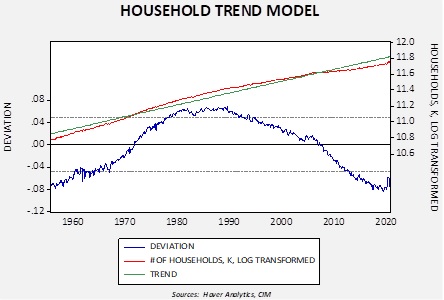 This chart shows the level of household formation on a log basis. Household formation has been declining since 1990 but has started to stabilize recently. In addition, recently the data was recovering quickly but did pull back due to the pandemic. We expect the recent bounce is a signal of faster formation as the large millennial generation begins to form households. If so, a rise similar to what was seen from 1960 to 1980 may be in store.
Finally, one of the factors that had hampered this sector was suburban sprawl. In some areas, the commutes to work had become so lengthy that workers could no longer move further away from urban centers to find affordable housing. However, the pandemic has proven, for many workers, that working from home is a possibility. As a result, workers are looking again at buying more space further "out" with the idea that instead of commuting five days a week, it may be three or less, which is more manageable.
For these reasons, the Asset Allocation Committee remains favorable toward the homebuilding and related industries, expecting them to perform well in the coming years. And, as we noted in our 2021 Outlook, if the Federal Reserve is serious about improving the lot of the bottom 90% of households, then it should keep interest rates low because this group's largest asset is its home, and low interest rates support the price of that asset.
---
[1] The pandemic has pushed average wages higher because lower paid service workers have suffered larger job losses.
These reports were prepared by Confluence Investment Management LLC and reflect the current opinion of the authors. Opinions expressed are current as of the date shown and are based upon sources and data believed to be accurate and reliable. Opinions and forward-looking statements expressed are subject to change. This is not a solicitation or an offer to buy or sell any security. Past performance is no guarantee of future results. Information provided in this report is for educational and illustrative purposes only and should not be construed as individualized investment advice or a recommendation. Investments or strategies discussed may not be suitable for all investors. Investors must make their own decisions based on their specific investment objectives and financial circumstances.