Summary
If you're looking to protect assets in this volatile market, long/short strategies are worth a look.
BTAL, which goes long low beta stocks and shorts high beta stocks, has taken advantage of both the market downturn and the rotation into conservative equities.
Backtests suggest that allocations of as much as 30% of equity portfolio assets to BTAL produces the highest Sharpe ratios.
BTAL has outperformed the S&P 500 by more than 21% in just the 4th quarter of 2018.
This idea was discussed in more depth with members of my private investing community, ETF Focus. Start your free trial today.
Investors are starting to learn the hard way that the high return, low volatility environment that's dominated for much of the past two years is more exception than rule. All of the major indices are down at least 10% from their earlier year highs, while small-caps, non-U.S. developed markets and emerging markets are all at least 20% off of recent highs. Treasury ETFs, such as the iShares Core U.S. Treasury Bond ETF (GOVT), have rebounded nicely amid the volatility. It's gained about 2.5% over the past two and a half months, but Treasuries are still mostly flat or down on the year and they're still susceptible to rates rising again.
It might be time for investors to start thinking outside the box.
One largely untapped market in the ETF space is liquid alts. There are over 50 ETFs currently that ETF.com categorizes as alternatives, but they only account for around $5 billion in assets, or about 0.14% of the $3.5 trillion in total ETF assets. Clearly, alternative strategies, such as real return, market neutral and long/short, have a ways to go to become more than a blip on the radar, but a few of the products that do exist carry some real intrigue as portfolio hedging vehicles.
The recently launched Innovator S&P 500 Buffer series of ETFs (POCT) (BOCT) (UOCT) use options contracts in order to deliver the return of the S&P 500 up to a predetermined cap, while buffering investors against a specific percentage of losses. The Cambria Tail Risk ETF (TAIL) looks to mitigate significant downside market risk by investing in a combination of out-of-the-money put options purchased on the U.S. stock market and intermediate-term U.S. Treasuries.
Another fund I like right now is the AGFiQ U.S. Market Neutral Anti Beta ETF (BTAL). It's a more traditional long/short strategy that goes long low beta stocks and short high beta stocks. In other words, BTAL can be expected to produce positive returns any time low beta outperforms high beta (to what degree, of course, depends on how the market performs).
In a market downturn, you might expect high beta stocks to do worse than low beta stocks, and if that's the case, this fund produces a positive return. Even if low beta doesn't outperform, this fund likely wouldn't drop as much as the overall market because half of the portfolio is short. The downside, of course, is that it trails the market (probably significantly) in up markets.
As a downside hedge, BTAL has shown how well this strategy can work starting in the beginning of October when the market started correcting and turning more volatile. Let's take a look at the performance at the performance of the S&P 500 (SPY) since then as well as our two proxy ETFs, the Invesco S&P 500 High Beta ETF (SPHB) and the Invesco S&P 500 Low Volatility ETF (SPLV).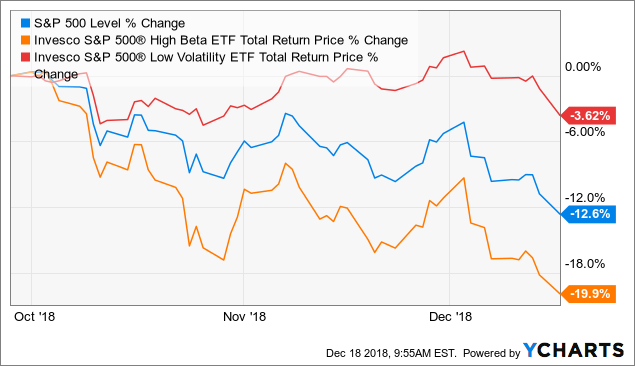 The S&P 500 has dropped more than 12% in just under the past three months, but high beta stocks have performed substantially worse. The low volatility group, led by strong relative performance in utilities, real estate and consumer staples, has dropped much more modestly. This is exactly the type of market environment that allows long/short strategies, such as BTAL, to excel.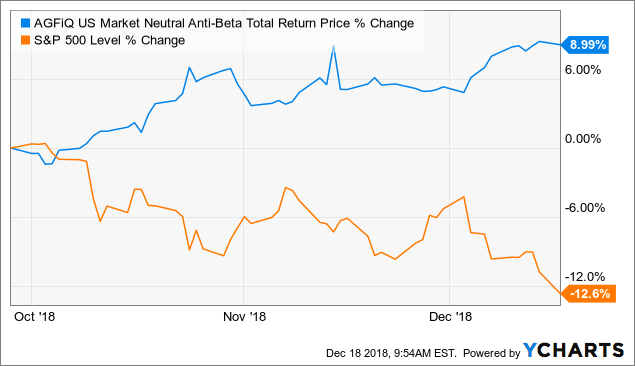 Shorting the high beta segment of the market has helped BTAL outperform the S&P 500 by more than 21% in the fourth quarter. Those returns put BTAL not just near the top of the long/short ETF category, but also among the best performing ETFs of 2018. Of course, those short-term returns come with a tradeoff. Long/short strategies do well in downturns, as evidenced by BTAL's 13.5% year-to-date return, but struggle during bull markets. Over its 7-year history, BTAL has averaged a -0.8% annual return.
BTAL can serve two purposes within a portfolio – a pure downside hedging tool or a portfolio risk reduction tool. Before we get into how it can or should be used, let's first break down the fund.
Breaking Down BTAL
BTAL benchmarks to the Dow Jones U.S. Thematic Market Neutral Anti-Beta Index. It starts with a universe of the largest 1,000 eligible stocks and groups them by sector. The index then identifies the 20% of securities with the lowest betas in each sector and the 20% of securities with the highest betas in each sector. The fund buys the low beta positions and shorts the high beta positions. All qualifying positions are equal-weighted.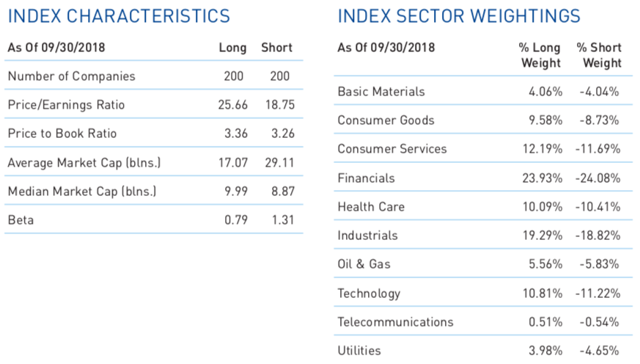 Since BTAL looks for the lowest and highest beta positions within each sector, the corresponding long and short weights within each sector are roughly the same. In other words, the fund isn't long mostly utility and consumer staples stocks and short tech and energy companies. I find the sector-neutral and dollar-neutral nature of the fund to be much more preferable to a product that just targets the most and least volatile stocks overall. I feel it makes BTAL a more pure risk hedge by giving it less the look of a defensive ETF.
One thing that stands out when looking at index characteristics is the disparity in valuation between the long and short groups. The long group has a P/E of more than 25, while the short group is at around 19. Is that a reason for concern? In my opinion, not really. BTAL is focused on volatility, not value. In a market downturn, investors will be more focused on volatility and that makes BTAL more effective as a risk mitigation tool.
Should BTAL Be Added To An Equity Portfolio?
BTAL has been around for more than 7 years, so we have a fair amount of data to work with even though we haven't seen it operate in a bear market.
Using BTAL purely as a means of profiting during a market downturn involves a significant degree of acumen in market timing. I'm not much of a market timer (my few attempts at it have ended up with below average results), so I'm not sure there's much I can offer to be helpful in that regard. Using BTAL as a risk hedge is something much more quantifiable.
Adding BTAL to an equity portfolio won't enhance absolute total returns given enough time, but how much should be added to maximize risk-adjusted returns? I tried to answer that question using Portfolio Visualizer. The first example uses a two-asset portfolio of BTAL and SPY using data going back to BTAL's launch in late 2011. In order to maximize risk-adjusted returns, you should hold more BTAL than you might think.

Source: Portfolio Visualizer