Last week we saw the technology laden NASDAQ market drop over 10% from its prior week high, hitting 6906 down from a high of 7728 a week earlier. We have spoken at length over the last few letters how insiders and institutions have been selling out of technology positions but retail seems to be picking up what they are putting down. This kind of action where the weak hands are buying from the strong hands is a notorious set up for a market set back and last week did not disappoint.
We have also discussed the fact that borrowing costs have risen sharply as the Federal Reserve has remained steadfast in their resolve to normalizing rates, whatever level that may be…Anyway its only a matter of time before higher rates creep into their longer-term discounting mechanisms. What do we mean? Well in a quantitative investment world by which mathematics governs many of our decisions and well thought through and quantified variables dominate every market move. We can't help but be reticent to the fact that if everyone is investing like a quant, then surely NPV or Net Present Value calculations will have to adjust or "discount" at much higher levels given the creep up in bond yields. If you don't know what NPV is, well, you better go get a refresher, because its about to kick a lot of assets a few notches down the belt of fair value, this we are certain. In an era by which zero rates have fueled the largest debt for equity swap in history, we can only imagine the steep price some companies will have to pay come roll over time. Then again, it's the equity holders that get lambasted first, then the bond holders, so there is some margin of safety there, but not exactly an honorable consolation.
Anyway, just to touch on a few notable equity names last week and to see how much damage was done, lets take a look out how some of the FAANGs fared. Facebook dropped some 13% from its late September high of $171, to trade down to $149. Amazon dropped from a recent high of $2033 down to $1684 a decline of 17%. Apple dropped 9% from $233 to $212.  Netflix was hit hard losing some 18% from $386 down to $315. Google dropped nearly 12% falling to $1067 from $1210. The FAANGs however did put in a late week rally as they hit the 61.8 fib retracement on the head shown here: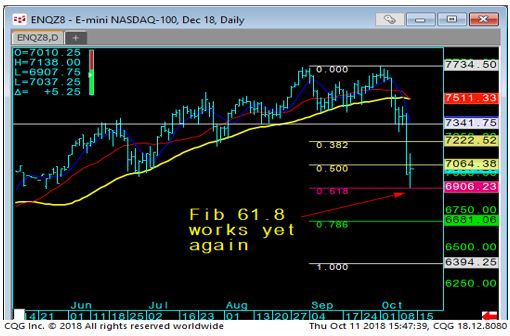 This fueled some to flock back into the tech sector as the Nasdaq rallied sharply especially vs the SP500 as indicated by this reversal shown in this chart here: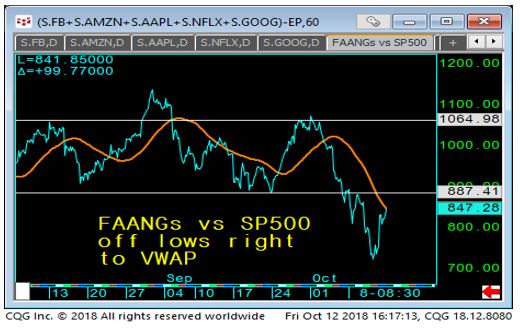 To demonstrate the severity of this reversal we can look at this spread in a bit more granular fashion by comparing the actual dollar value of each contract vs one another. As you can see in the next chart after falling from a high earlier in the week of about +$4200 it fell down toward +$1000 and by Friday the Nasdaq regained and hit a new high vs the SP500 for the week up at +$5110.