By Harry Dent via Iris.xyz
It always strikes me as odd that the happiest countries tend to be in cold-as-**** places like Scandinavia and Canada. It's kind of similar stateside, too.
This weekend I saw a recent study by WalletHub that shows that the happiest states in the U.S. tend to be in the upper Midwest region – you know, where the Arctic vortex comes on through! In order of happiness, we have Minnesota, North Dakota, Iowa, South Dakota, Nebraska, and Wisconsin.
Those in the less-frigid-but-still-cold Northeast are also generally happier. We're also talking just south of there: Virginia, North Carolina, and Georgia. And of course, the west coast is largely happy, except Oregon. The Rockies also, except Wyoming. And then there is the Southwest… Well, except for New Mexico.
The unhappiest states mostly fall in the inland Southeast and lower Midwest. West Virginia is ranked as the least happy state in the nation. Note the whitish and very light blue shadings.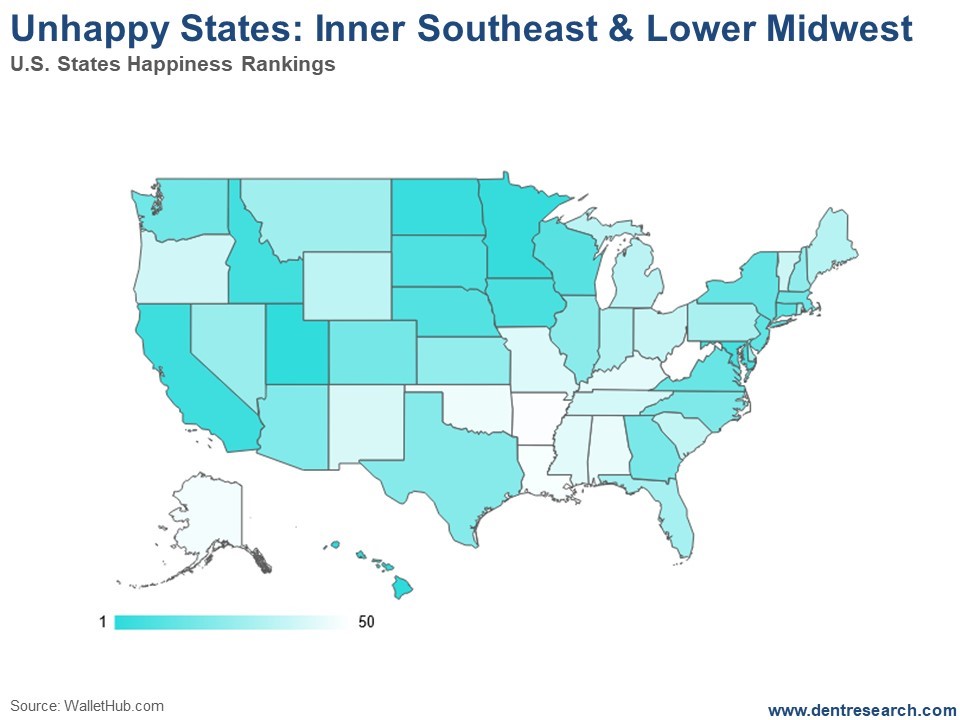 So, what's going on here and what economic significance does the data seem to carry?
Click here to read more on Iris.