By David Trainer via Iris.xyz
Fund holdings affect fund performance more than fees or past performance. A cheap fund is not necessarily a good fund. A fund that has done well in the past is not guaranteed to do well in the future (e.g. 5-star kiss of death and active management has long history of underperformance). Yet, traditional fund research focuses only on low fees and past performance.
Our Robo-Analyst technology[1] empowers our unique ETF and mutual fund rating methodology, which leverages our rigorous analysis of fund holdings[2] and enables investors to find funds with high quality holdings (the best chances for outperformance) – AND – low fees.
Investors are good at picking cheap funds. We want them to be better at picking funds with good stocks. Both are required to maximize success. We make this easy with our predictive fund ratings. A fund's predictive rating is based on its holdings, its total costs, and how it ranks when compared to the rest of the 7000+ ETFs and mutual funds we cover.
Figure 1 shows that 80% of fund assets are in ETFs and mutual funds with low costs but only 0.2% of assets are in ETFs and mutual funds with Attractive holdings. This discrepancy is eye opening. Perhaps, if more investors had access to research on fund holdings, they would allocate to more Attractive-or-better rated funds.
Figure 1: Allocation of Fund Assets by Holdings Quality and By Costs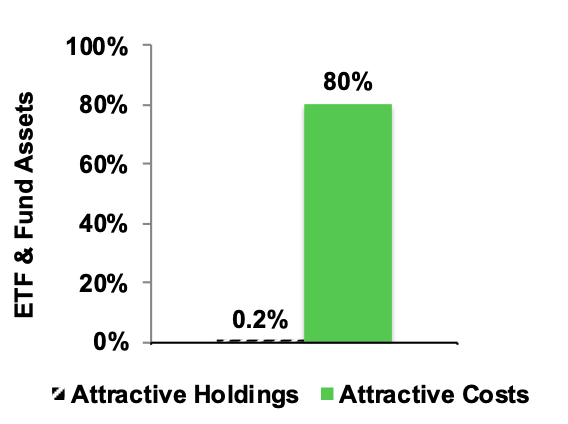 Image Source: New Constructs, LLC
Sources: New Constructs, LLC and company filings
Click here to read more on Iris.