September's rate hike from the FOMC was widely expected, and Fed Funds futures now place the probability of a further 0.25% hike in December at about 74%. The outlook for 2019 is less predictable as futures display only a 23% probability that the Fed increases three times next year, as suggested by its "Dot-Plot" projection to end 2019 with a 3.00%-3.25% Fed Funds rate target rate (see charts below). The market appears split between one and two 0.25% hikes next year. Meanwhile, Fed survey respondents further increased their short-term growth projections in September as compared to March. They continue to project slowing economic growth by 2020.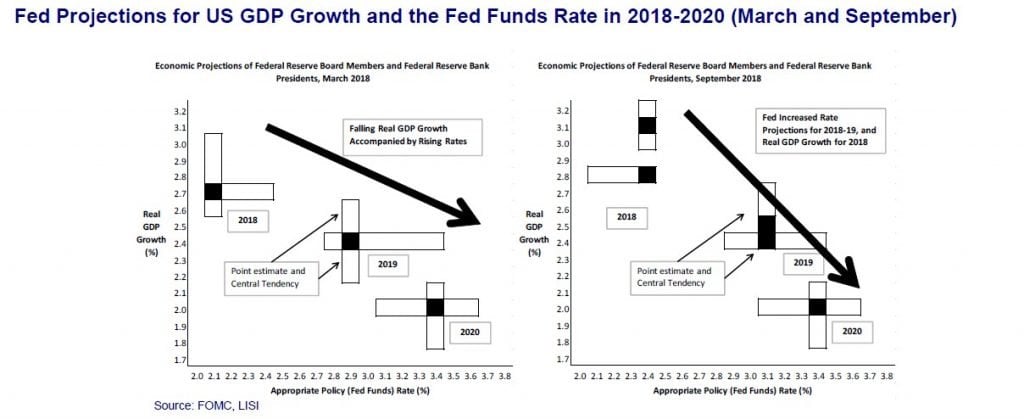 3. Equities in the US Earning their Recent Record Levels
The new heights reached by US stock indices provide a telling corollary to the rising yields seen in fixed income. The Dow closed above 26,000 at the end of 3Q18, and has continued to rise since then. The S&P 500 has also hit new highs and is up over 9% YTD, after a very strong 2017 (see table below). European and Chinese stocks are negative on the year, reflecting slowing growth and, possibly, early effects of Brexit and other ongoing trade issues. The Nikkei is modestly higher.

Steep equity price boosts often prompt caution based on valuations, but at least on a price-to-earnings (P/E) basis the trend does not alarm (see chart below). Rising YoY corporate earnings are outpacing prices so that, for instance, the S&P 500 ended the third quarter with a P/E ratio of 21.1x, compared to a 22.4x measure at the end of 2017.

Conclusion
In light of strong corporate performance and signs that both fiscal and monetary policy are reasonably supportive, the LISI Investment Committee at its late September meeting voted to maintain its current Tactical Asset Allocations, which reflect a positioning in equities overweight to the Committee's longer term Strategic Asset Allocations (Allocations by model are available upon request). Accordingly, across asset classes we favor the following:
Fixed Income – We recommend shortening duration and accepting somewhat higher credit risk to mitigate effects of the anticipated rate hike cycle, while taking advantage of improving fundamentals
Equities – We are positive on equities, particularly in the US, given improving EPS, support from US fiscal stimulus, and the Fed's slow and steady approach to hiking interest rates. We are cautious about the prospects for European equities and have shifted our stance somewhat toward the US and Asia
Alternatives – We like the low correlation to core markets exhibited by alternative assets, and favor their inclusion as a small component of portfolios with moderate to higher risk profiles
Cash – We recommend keeping a small allocation in cash to capitalize on any market dislocations
The current state of economic indicators in the US leaves little room for pessimism as fiscal stimulus has taken the baton from the multi-year support of extremely accommodative monetary policy. As such, we can look to signs of potential trouble to come, but cannot state with any conviction that we see these as highly probable threats. While two differing perspectives on the coming path are valid, the prevailing winds appear to be guiding the dark clouds of a downturn away.