BondBloxx U.S. Treasury ETFs – More Precise, Lower Expense Ratio
Looking to access U.S. Treasuries to manage cash or use as collateral?
BondBloxx U.S. Treasury ETFs offer:
Less than half the cost of the average expense ratio of U.S. Treasury ETFs1
The only ETFs that focus on stable duration exposure
Across the yield curve, a diversified basket of U.S. Treasuries has historically provided higher yield than on-the-run U.S. Treasuries2   (Figure 1 shows a 2-year U.S. Treasury comparison)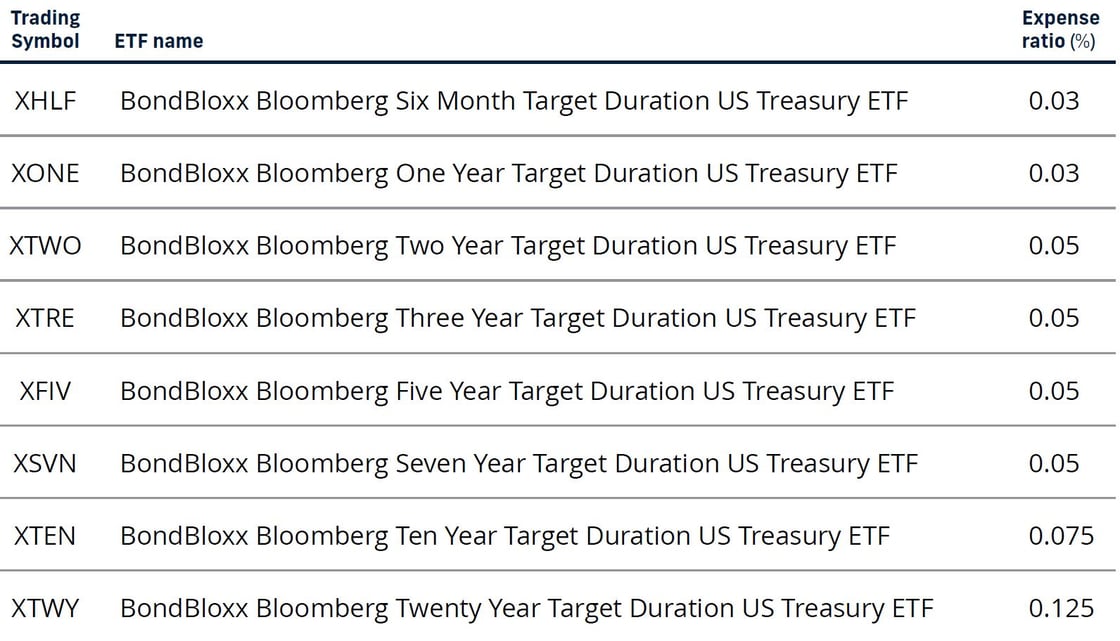 Figure 1
1 Source: Bloomberg, as of 1/31/23. The average expense ratio of U.S. Treasury ETFs available in the U.S. is 0.15%, compared to the average expense ratio of .0575 for BondBloxx U.S. Treasury ETFs.
2 Source: ICE Data Service, 1988-2022. Based on the ICE BofA current 2-Year US Treasury Index compared to the Bloomberg US Treasury Two-Year Target Duration Index
---
Investors should consider the investment objectives, risks, charges, and expenses carefully before investing. For a prospectus or summary prospectus with this and other information about the Fund, please call (800) 895-5089 or visit our website at bondbloxxetf.com. Read the prospectus carefully before investing.
The Fund is a newly organized entity and has no operating history. Investments in fixed income securities subject the holder to the credit risk of the issuer. Credit risk refers to the possibility that the issuer or other counter parties of a security will not be able or willing to make payments of interest and principal when due. Generally, the value of debt securities will change inversely with changes in interest rates. To the extent that interest rates rise, certain underlying obligations may be paid off substantially slower than originally anticipated and the value of those securities may fall sharply. 
Distributor: Foreside Fund Services, LLC.