It's starting to look like the fourth-quarter bear market may have been just a mere blip on the market radar. Active portfolio managers have been returning to risk-on positions over the last couple weeks. They're back to buying perennial favorites like the Communication Services sector, which now contains the likes of Facebook and other momentum names, according to Bank of America Merrill Lynch.
Momentum stocks appear to have mostly picked up right where they left up before the widespread asset-price plunge, although Thursday's pullback suggests the ride up may not be as smooth as it was almost a year ago.
Back to Communication Services
In their update on active managers' holdings this week, BofAML strategists Savita Subramanian and James Yeo said that the two "consensus picks" over the last month were Communication Services and Health Care. Active managers' exposure to Communication Services is now the highest relative exposure at 1.26 times average funds, they explained.
Almost two-thirds of funds are now overweight Health Care, which they said is the second-highest exposure they have observed in the sector since 2015. Within Health Care, funds are now at a new record overweight reading in Providers and Services at 1.5 times.
BofAML also observed "modest" overweights in Tech and Discretionary," but this has been a trend through their data's history.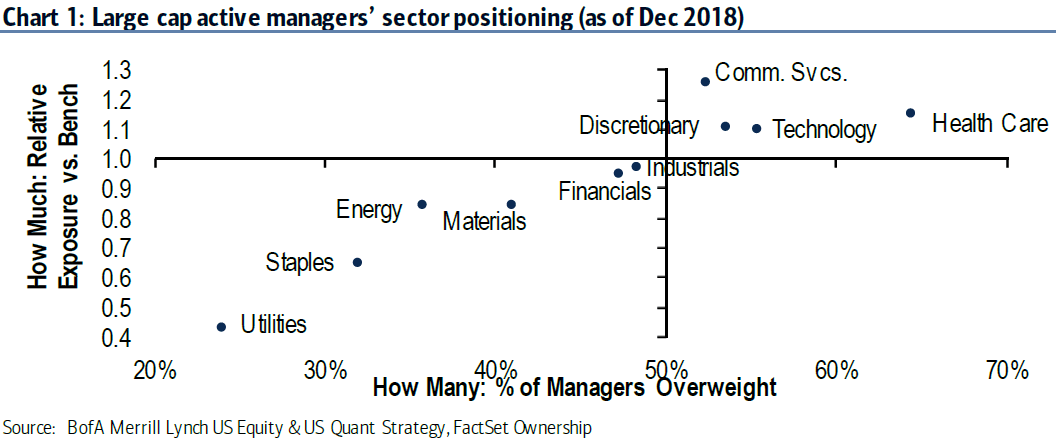 "Legging it" back into risk
The BofAML team also found that active managers have rushed back into risk over the last month. Rotation from cyclicals into defensives plunged to multi-year lows in September, but that has since dramatically reversed course in just a short time.
They said exposure to Industrials over the last month climbed nearly to equal-weight at 0.98 times. In fact, they found that funds now own more Industrial names than Financials, marking the first time that has happened in two years.
The BofAML team particularly noted a rally in Aerospace & Defense, which soared from record-low levels in July to the highest level in 16 months at 1.21 times. Road & Rail also hit its highest exposure level in over two years at 1.15 times. However, active managers continue to shun Machinery as exposure to the subsector tumbled close to record lows.