Exposure to Consumer Staples, which is generally seen as "classically defensive," tumbled for the third consecutive month, reaching a new record underweight of 0.65 times in January. The strategists also noted "a clear tilt" from multinationals in preference for domestic names over the last month.
Returning to Energy
They also reported some interesting observations in Energy and Materials. They explained that as sectors shrink, sometimes investors see them as "too small to matter," so they remain persistently underweight. They saw this behavior in Energy and Materials as exposure to both sectors tumbled throughout the last six months of 2018.
However, they said that over the last month, relative exposure to Energy among active funds jumped to the highest level since April 2017. They cited the 30% rally in oil prices off December's lows. Even though funds are still underweight on Energy, "on an oil beta-adjusted basis managers are now overweight Energy stocks." They also observed steady inflows to the sector.
However, the BofAML team declared that the Materials sector is still "in purgatory" as exposure has fallen to its lowest level in a year and the third-lowest level recorded since at least 2008.
"But everyone else is buying it…"
The strategists also highlighted a trend we've been hearing more and more about recently. Crowded stocks have long been a topic of conversation, but during the fourth quarter, crowded names were especially troublesome for some fund managers. In fact, some managers capitalized nicely on avoiding crowded stocks.
BofAML noted that outflows from active funds were again close to record highs at $370 billion.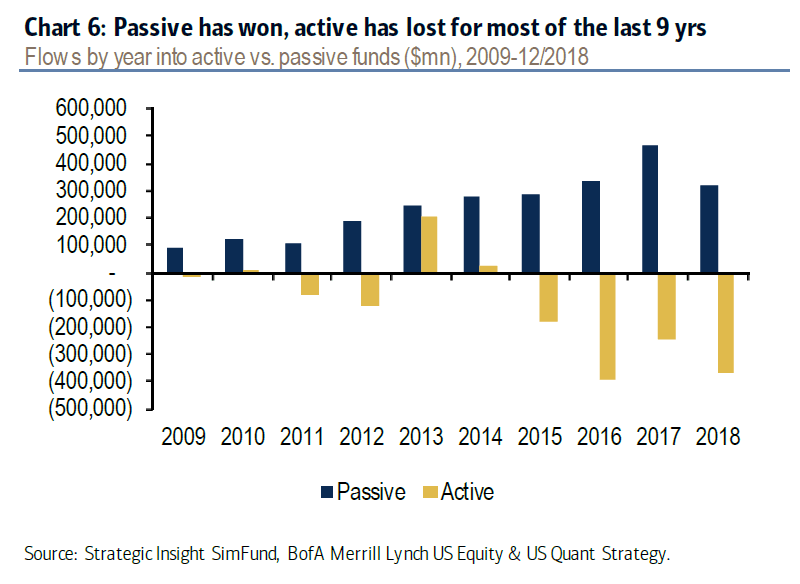 However, the firm also said that last year, the 10 most crowded stocks lagged the 10 "most neglected stocks" by more than 5 percentage points, a trend that continued into the new year. The firm estimates the annualized spread at about 5 percentage points, noting that buying the most underweight stocks and selling the most crowded stocks usually generates alpha.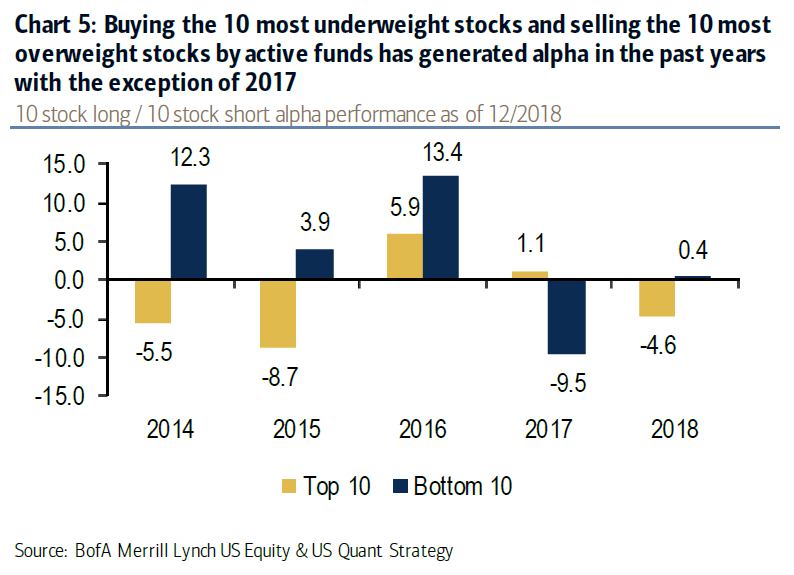 For more market trends, visit ETF Trends.