By Adam Sarhan via Iris.xyz
Stocks ended the week nicely higher as optimism spread regarding the US-China trade deal and investors digested the latest round of earnings data.
At this point, the rhetoric from both sides suggests a trade deal will get done and that is a "good" sign for the market. On the economic front, the big miss came from retail sales but that is bullish for stocks because it reduces pressure on the Fed to raise rates anytime soon.
Remember, the market loves easy money so any weak data only furthers that cause. So, in some perverse way, we are back in that awkward phase where negative economic data is good for stocks. Technically, it is encouraging to see the Dow and S&P 500 both close above their respective 200 DMA lines which have served as near-term resistance. Meanwhile, the Nasdaq and the Russell 2000 both close near/below their respective 200 DMA lines. For now, the market is getting extended to the upside and due to pullback.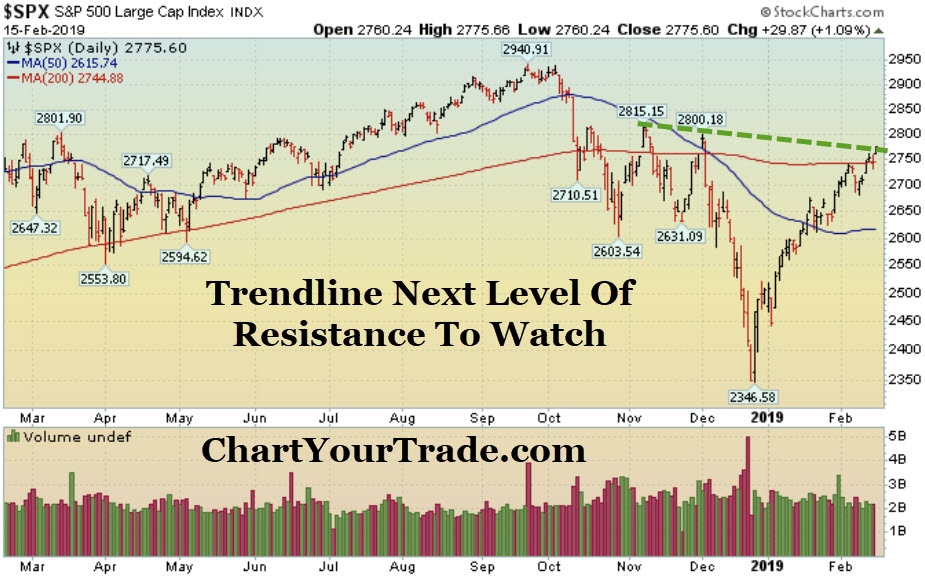 Monday-Wednesday's Action:
Stocks were quiet on Monday as investors digested the recent rally below resistance (200 DMA line). On Tuesday, stocks soared after news broke that a tentative border security deal was reached and the government would not shut down on Feb 15. The deal would not completely fund the wall but it would be enough to at least move the needle and get something built. That was considered a big win for Wall Street as it removed a lot of uncertainty regarding the potential impact of another government shutdown and the economic ramifications. On Wednesday, stocks rallied again on optimism that the trade war with China would be resolved.
Click here to read more on Iris.