It is impossible to say precisely when all of this will happen. When I began to research the topic a couple of years ago, I got the impression that commercialisation of fusion energy is still decades away with the consensus settling around 30 years. However, the insider view now is that we may only be 15 years away from delivering fusion-generated electricity to the grid, such is the momentum.
Given the dramatic impact fusion energy is likely to have on everything, investors are presented with a once-in-a-lifetime opportunity. Having said that, economic growth between now and the day fusion energy is finally available on the grid will almost certainly drive fossil fuel prices higher in the short to medium term.
I don't for one second believe you can simply go short fossil fuels today and then sit back and wait for fossil fuel prices to implode, and I will warn you strongly against shorting fossil fuels more systematically anytime soon.
Finally, in terms of the bigger picture, bear in mind that this is only the tip of the iceberg. Countries that are dependent on the fossil fuel industry for its continued economic growth – and no OECD country is more dependent on the fossil fuel industry than the US – will most likely run into strong head winds for a period of time.
Talking about OPEC, political priorities in the OECD will most likely change as OPEC's powers begin to fade. And, as that happens, other countries – those rich on lithium – will move to the forefront. I have even (half) joked that OPEC at some point in the future may be replaced by OLEC – the Organisation of Lithium Exporting Countries.
With the biggest lithium reserves in the Lithium Triangle, and with Chile being a price-setter, could Chile become the new Saudi Arabia? Not as far-fetched as you may think. At the very least, the South American continent's prominence and political influence will most likely grow as fusion energy becomes more than a distant vision.
The bear story on lithium
It's quite easy to get carried away with the lithium story, so I started to look around for the bear story and, lo and behold, it wasn't that difficult to find. Morgan Stanley is a firm bear, and its views are largely based on the research it has conducted on SQM (Sociedad Química y Minera de Chile) – the largest producer of lithium worldwide. Allow me to quote from a Morgan Stanley research paper from August 2018:
"SQM used to be the price setter. Recall that SQM's 1997 entry into the lithium market caused a ~50% reduction in lithium prices and led to mine closures in Argentina, Australia, China, Russia and the United States. We believe that SQM lost its role as price setter only in 2015, when – due to its dispute with the former Chilean government – it could not increase its production quota. With that dispute resolved, and already announcing to new capacity expansions, we expect SQM to recapture the lithium price setting role from 2019 forward."
Morgan Stanley go on to conclude:
"We believe that SQM is recovering the capacity to define global price and the right commercial decision is to reduce prices to the marginal cost of production […]. We expect an inflection point in 3Q18 and a gradual price decline during 2019-20, bottoming below $8k in 2021."
As you can see from Exhibit 5, after moving broadly sideways for a number of years, lithium prices have done extraordinarily well over the past 2-3 years. What you cannot see from that chart is that lithium prices have been under considerable pressure in recent months, but that is obvious if you look at Exhibit 6.
Before we all sign up to Morgan Stanley's rather bearish views, it ought to be said that the lithium industry has a history of overpromising and underdelivering as far as new projects are concerned. Take 2012, which was a year marked by very ambitious expansion plans in the industry. All guns were blazing when the new plans were announced, but what happened? I am sure you will draw conclusions similar to mine once you have looked at Exhibit 7.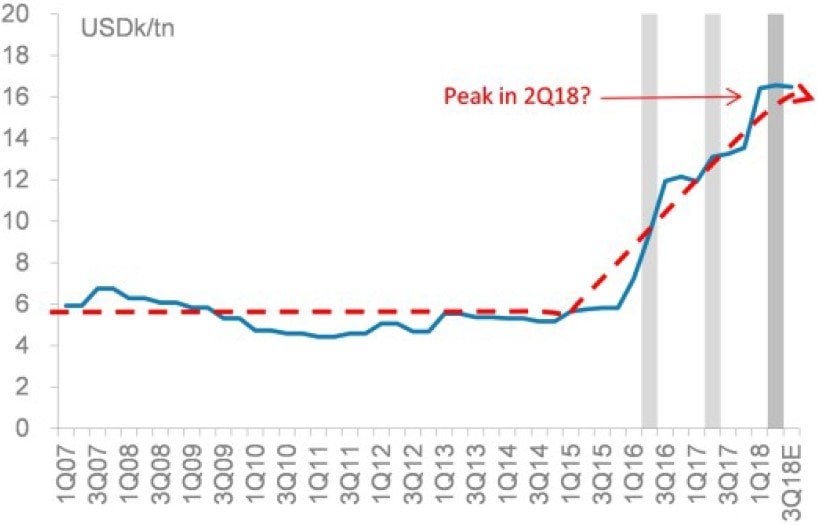 Exhibit 5: SQM lithium prices (USD k/ton)
Source: Morgan Stanley Research, July-August 2018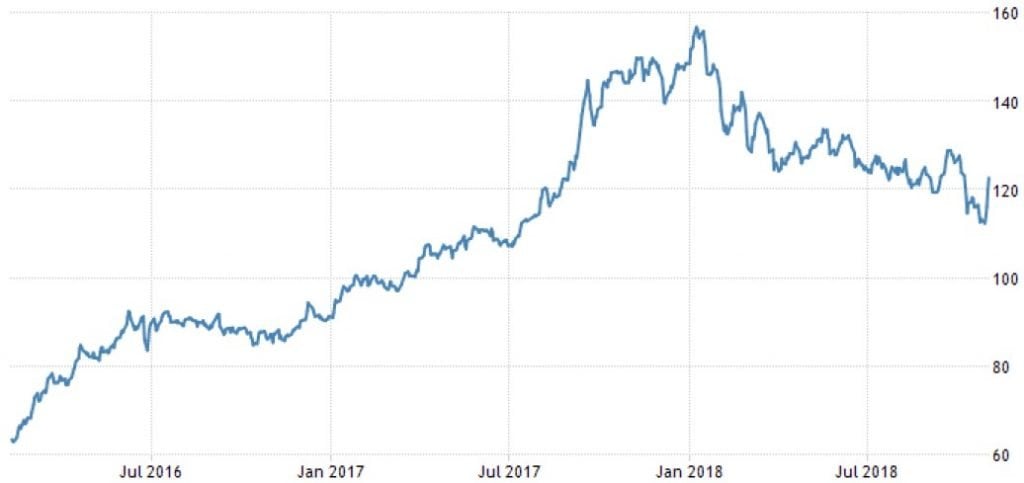 Exhibit 6: Lithium price index
Source: Trading Economics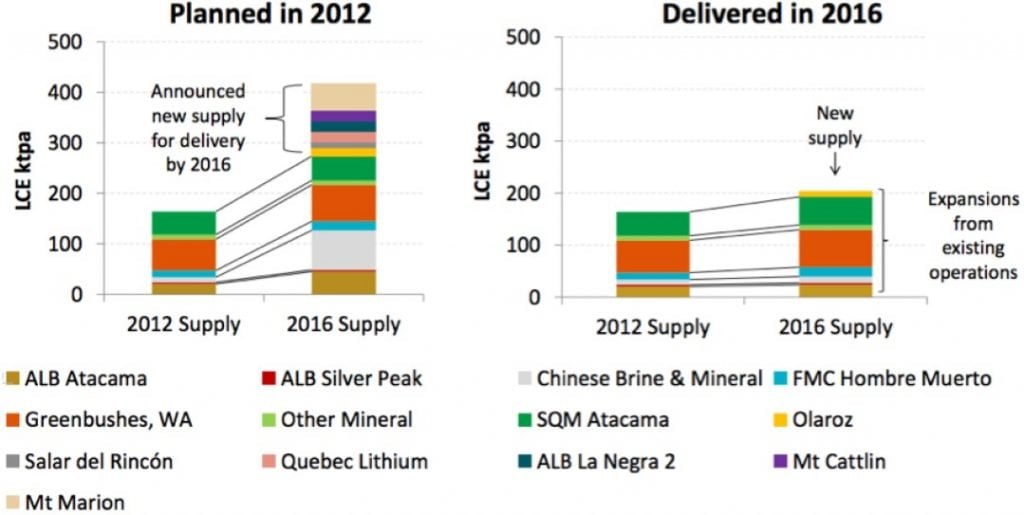 Exhibit 7: Plans vs. deliveries 2012/16
Source: Mining.com
Another risk for the long-term is that lithium may eventually be replaced by another and even more efficient fuel. I put this concern to Andy Lees at MacroStrategy Partnership (our primary research provider), and his answer was quite telling:
"Fusion energy today is where the aviation industry was in 1904 when the Wright Brothers developed the first fixed-wing aircraft. Back then, nobody had heard of jet engines, and I am sure the same will happen in the fusion industry. Eventually, something will prove more efficient than lithium but, for now, lithium is the story to focus on".
Adding it all up
Whether Morgan Stanley is right or wrong, the combination of electric cars, digitalisation in emerging markets and fusion energy can only drive lithium prices higher longer term. In that context, I note that electric car batteries have now reached cost parity with combustion engines, meaning that demand for electric cars will most definitely rise further in the years to come.
As far as the extraction process is concerned and, admittedly, I haven't spent any time on that in this letter, it makes a massive difference cost-wise, whether you mine lithium or extract it from brine water. Even if Morgan Stanley's forecast turns out to be correct, and lithium prices drop back to the $7-8,000 range again, the typical brine-based lithium producer will still make a handsome profit, assuming his all-in costs are only $3-4,000, as they typically are. The producers who will bleed at $8,000 will be the mining companies – not the brine water extraction companies (Exhibit 8).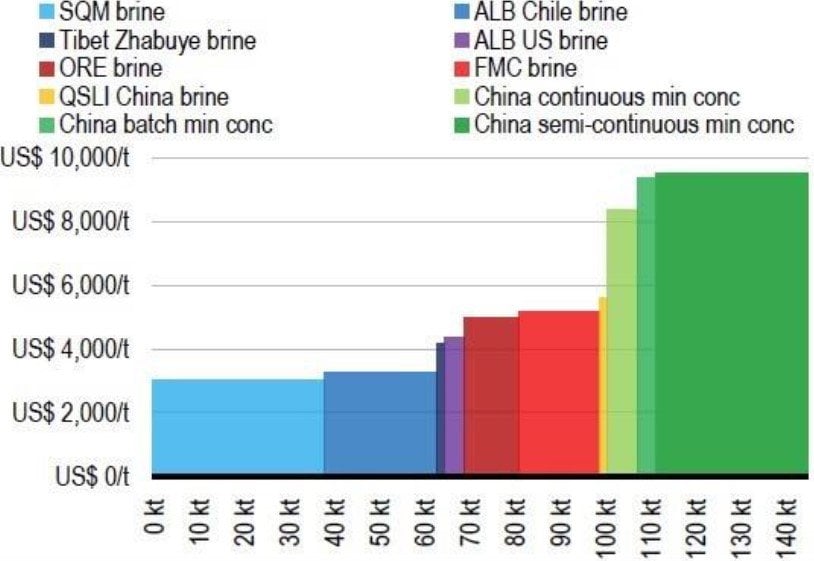 Exhibit 8: Lithium carbonate cost curve – brine vs. mining
Source: UBS